I Tested Allure's Best Foundation Tips from Makeup Artists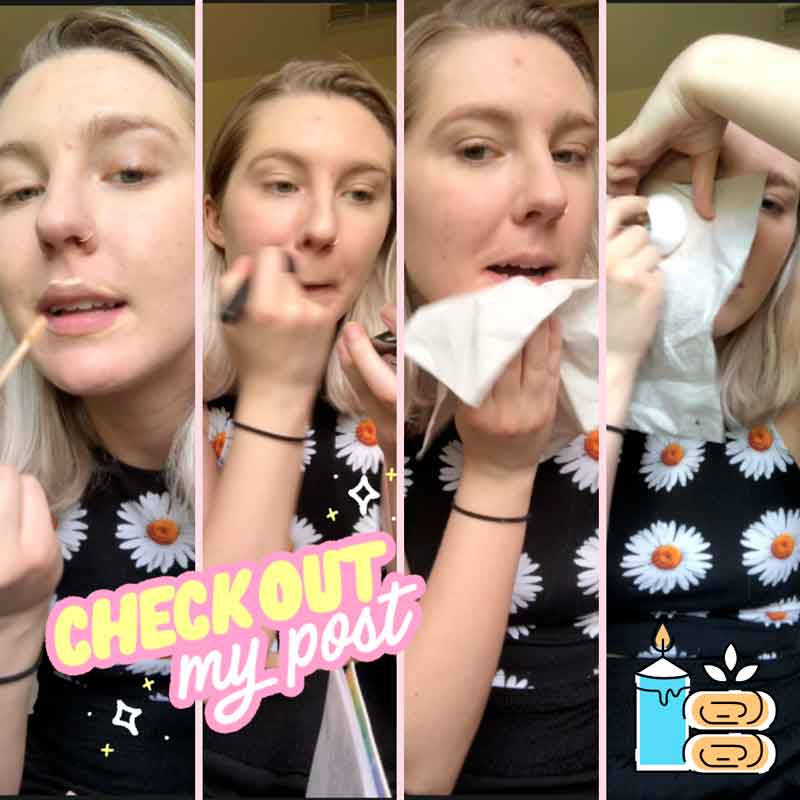 Testing Allure's foundation tips | Jordan Pilant
Makeup Artists' Tricks for Foundation: Are They Doable for a Day-to-Day?
I recently read an Allure article entitled, "45 Best Foundation Tips From Makeup Artists." I was intrigued by some of the unique tricks that I read but had never tried myself, so I decided to try six of them out.
The first trick I decided to try was "Mix water into foundation right before application. It adds moisture without any excess oil and makes the skin look even more radiant." —Rebecca Restrepo, who's worked with Mandy Moore, America Ferrara, and Emily Blunt. I tried this tip using the Laura Mercier Flawless Fusion Ultra-Longwear Foundation.
This tip did not work for me at all. I wasn't sure if it was because water only mixes with water-based foundations, but that wasn't something Restrepo mentioned in the article; however, I assumed there must've been conflicting ingredients because the two did not mix at all. In fact, it was as difficult as trying to mix water and oil. I continued on and put the foundation I'd mixed with water on my face, but it didn't seem any more radiant. It felt very matte.
The second trick I tried was from Joseph Carillo, who has worked with Alexa Chung, Portia Doubleday, and Lily Rabe: "I like to apply foundation with my hands to help warm it up, press it into the skin and into the contours of the skin. I usually go in outward, circular motions. Then, I fine-tune any additional blending with a clean foundation brush."
This tip was fine. I really liked the idea of using two tools to blend in a foundation. I usually stick to my fingers, a brush, OR a sponge, but I'll definitely dabble in using one and then the other now. I wasn't sure about the idea of using a brush last because I was worried about seeing brush strokes in my foundation. That didn't happen, but I was still unsure why I used the brush. It didn't seem to do anything to help blend my foundation in. I felt like it looked the exact same when I finished, but I do think I'll try using a brush and then a sponge or my fingers and then a sponge or finishing off with my fingers. It did put a new idea in my mind!
"It's very French to let your skin show through your foundation. After you've put yours on, press a tissue on top to remove excess" was a trick from Laura Mercier.
I really liked this trick! I thought it really brought down the caking around my nose and in between my eyebrows, where my foundation normally can get dry and crack. After I dabbed my face and looked at the tissue, the places around my nose and in between my eyes were actually the places in which it dabbed off the most product. I'm not incredibly dry right now, but I will definitely be using this trick in the summer when I'm much more naturally oily.
"Cover redness or acne with foundation, then concealer. Use a brush on pimples — fingers push makeup aside instead of covering the top of a blemish." — Mercier. For this tip I used the Laura Mercier Flawless Fusion Ultra-Longwear Concealer as well as the Real Techniques 309 brush.
I really liked this trick. I thought the brush did press the product into my skin very well, but the thing I liked most was that it also seemed to take the excess product off of my skin. By the end, the brush had a lot of concealer on it, but my skin looked more covered than it usually does when I use my fingers with concealer.
Cantello said, "A lot of people have redness and imperfections around their lip line. Cover them with a little concealer." I again used my Laura Mercier Flawless Fusion Ultra-Longwear concealer.
I didn't notice anything with this trick. I used my Charlotte Tilbury lipstick in "Bond Girl" as a bold lipstick to see if that would make me see more of a difference. However, I don't notice a lot of redness around my mouth, so I don't think this trick is really aimed at me in particular. If you do notice redness around your mouth, putting on a concealer like this might really help make your lipstick pop!
The last trick I tried was: "You can set foundation without caking on powder. Separate a two-ply tissue, place half over your skin, then dust loose powder on top." — Crimson. For this I used the It Cosmetics "Bye Bye Pores" powder brush and the Nikkia Joy Cosmetics Velvet Finishing Powder.
I didn't love this trick, simply because I'm not sure I got any powder on my skin. I feel like it can be quite easy to control the amount of powder that goes onto your skin and not to overdo it, so I didn't feel like using one ply of a tissue was necessary as a barrier. Perhaps if you're using a dewy foundation and have dry skin, but still want to set your makeup, this would be a good trick for you. I just didn't notice a difference between what I did before and after I put powder on like this, and when I put on powder, it's because I know I'm going to get oily during the day, and I want a nice thin layer of powder to control it.
My two favorite of the tricks, and the only two that I think I'll try again in their full glory, were the two Laura Mercier tricks: dabbing off my foundation with a tissue and using a brush with my concealer.
Do you have what it takes to write about beauty?
Apply now and get published on RGNN!