"You can never be overdressed or overeducated." This is the motto that reigns on our RGNN.org platform, where students from over 400 universities publish their fashion and beauty content.
When I see our students, I remember my own first internships at Vogue and W magazine, specifically, in the accessories departments, surrounded by sophisticated shoes, ready to be photographed glamorously for the respective magazine. Quite the Carrie Bradshaw moments if you ask me.
So, when one of my students found out I was putting together my wedding anniversary look this summer, she asked me, "ooooohhh, can you please share some of that on RGNN?"
In fact, over the last years, I have received so many DMs, emails and comments asking me for advice. I thought it would be foremost career advice, which it still is, but many students have also asked me about my personal style, my fashion tips, and my beauty tricks.
And just like that (no pun intended!), here goes, my ultimate wedding anniversary shoes edit. Creating this was a lot of fun, I hope you like it. (And if you have a minute to spare, DM me and let me know which shoes you like most!)
---
All products featured in this edit are items I have independently selected. However, if you buy something through one of our links, RGNN may earn an affiliate commision. All commissions generated on RGNN's end go towards continuing to fund the mission of our non-profit and our educational programs. And more than that – as announced in our recent Instagram post, if you are in the U.S. and use a Split link to buy a product, you can earn cashback by shopping on RGNN.
---
Go golden in Louboutin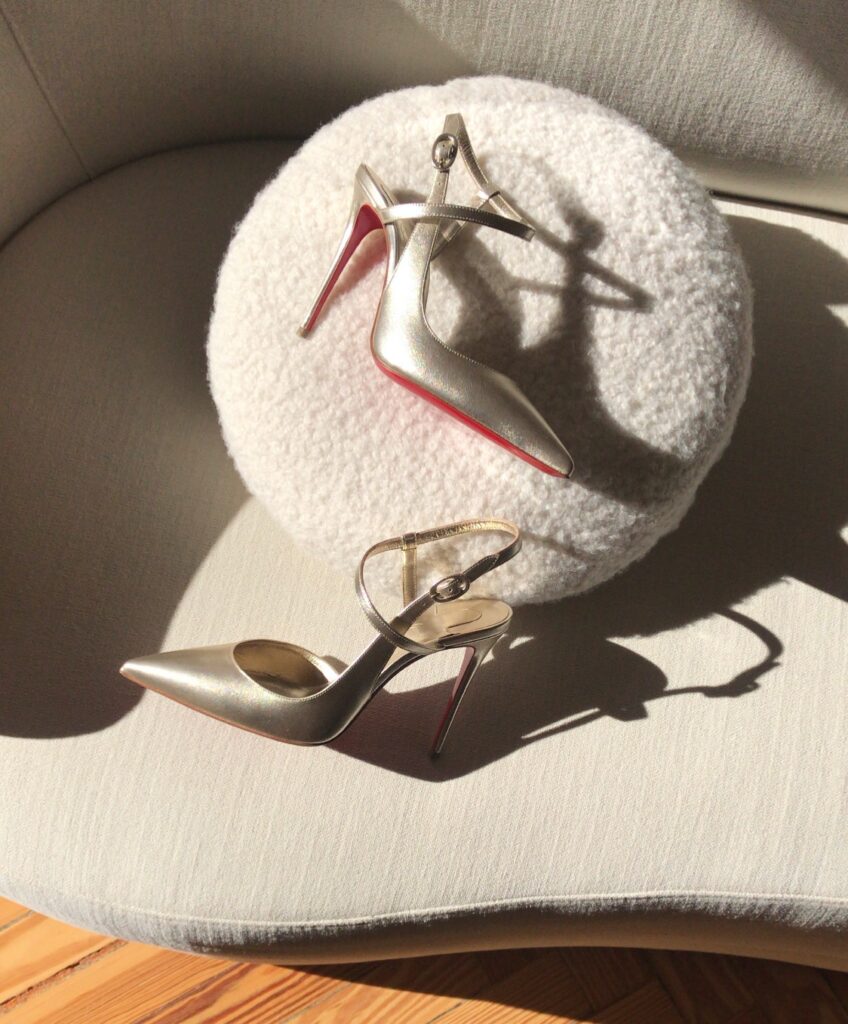 Christian Louboutin | Jenlove 100 mm | Irisdescent Nappa Leather Sahara
Style Notes: If you are looking for gold, this is a great option. The Jenlove pump gives off classic Mary Jane vibes and the gold is slightly irisdescent, without being too pearly or shiny. Pair it with gold jewelry, or a gold clutch to top off the look.
695 Euros on Christianlouboutin.com
SHOP NOW
Bing(o)! Candy pink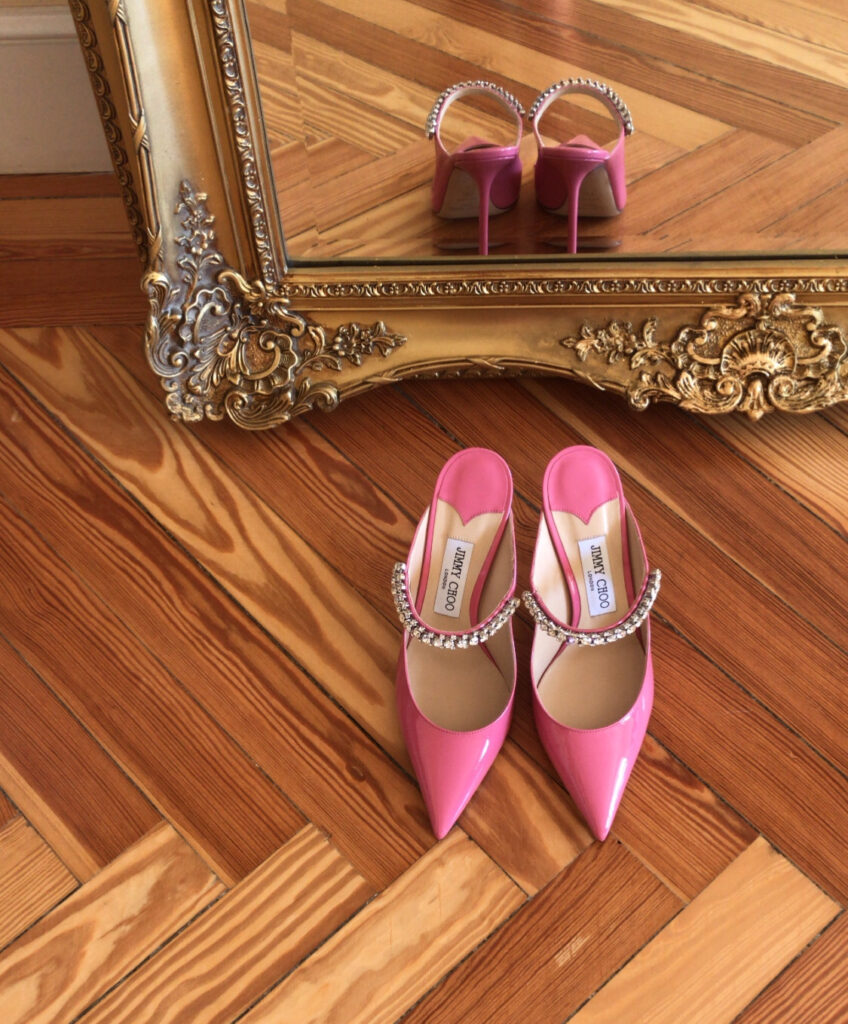 Jimmy Choo | Bing 100 mm | Candy Pink Patent Leather
Style Notes: The Jimmy Choo Bing mules have long been a wedding staple – in colors like white patent or silver glitter tulle. For a wedding anniversary, the candy pink patent version, new for this season, is a great take on this classic style. A pastel colored dress would go great with this elegant heel.
995 USD on Mytheresa.com
SHOP NOW
Just like a queen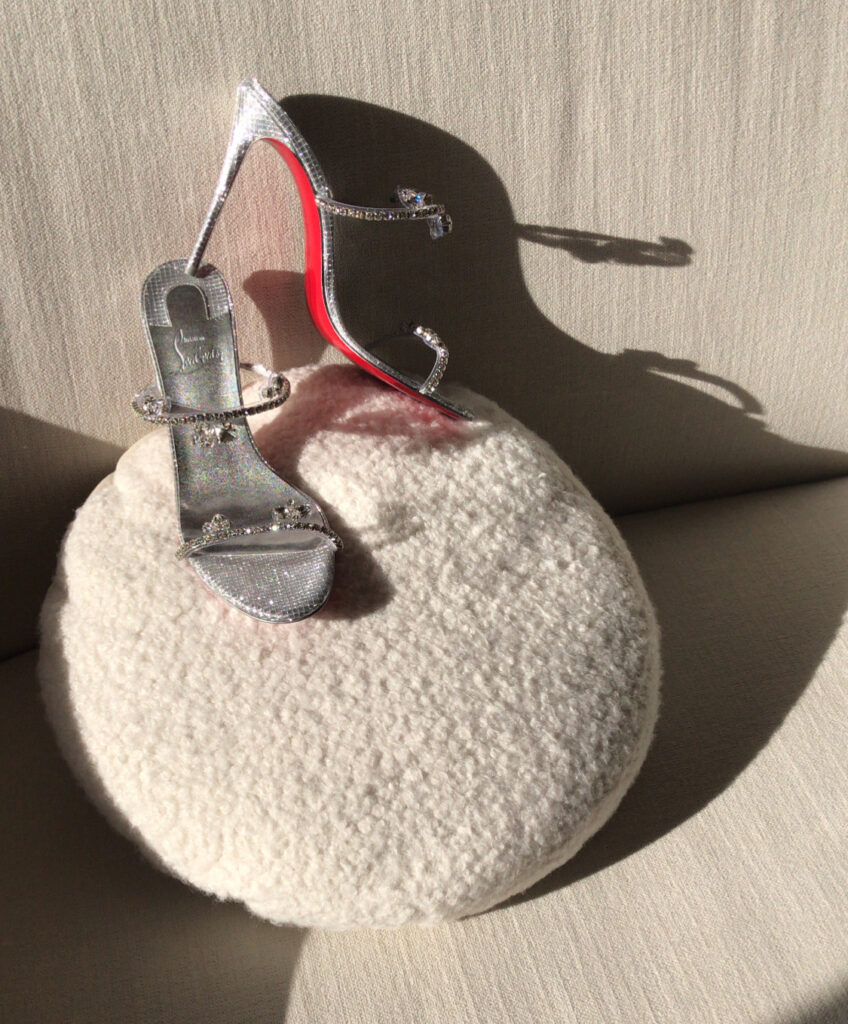 Christian Louboutin | Just Queen 100 mm Mule | Clear PVC/Silver
Style Notes: Christian Louboutin never disappoints. This PVC crystal embellished mule will have you feeling like the name says – "Just Queen". The neutral silver color goes just about with any dress option. (And if you are not much of a heel gal, keep scrolling, there is a flat version of this beauty, too!).
1,295 USD on Net-a-Porter.com. Also available on Mytheresa.com and Matchesfashion.com (the latter in an 80 mm height).
SHOP NOW
Crystals galore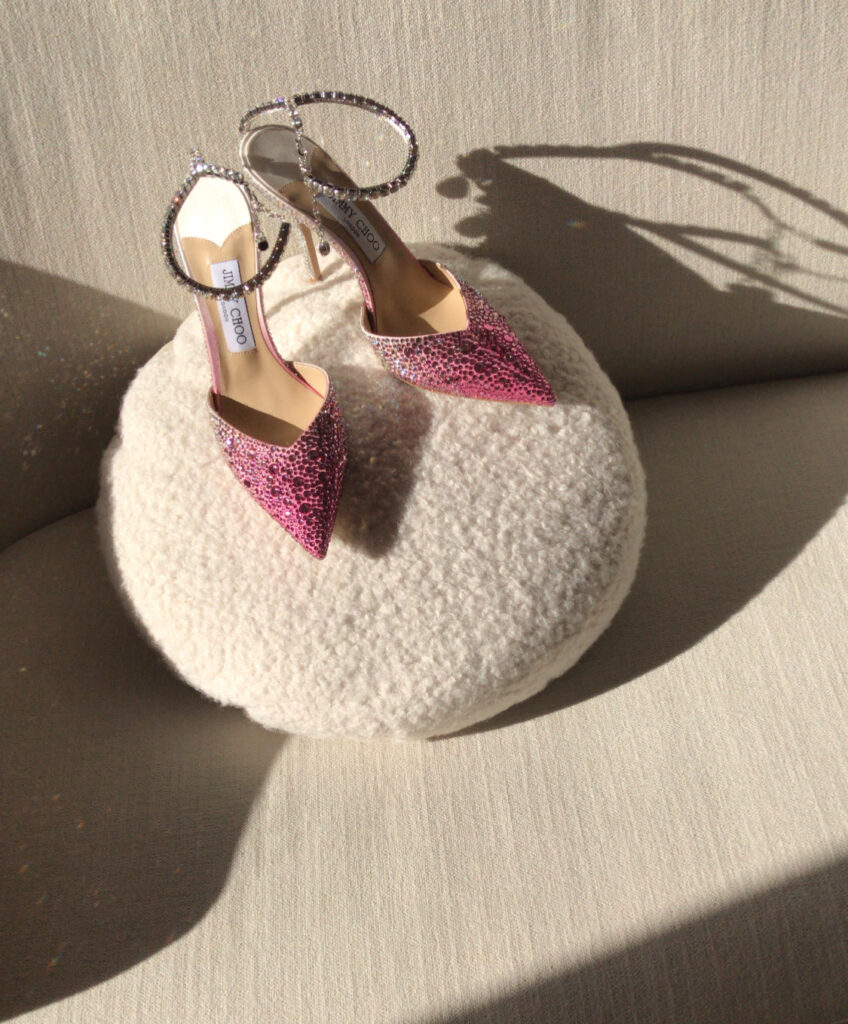 Jimmy Choo | Saeda 100 mm | Candy Pink Crystal
Style Notes: Ever since Hailey Bieber starred in the Jimmy Choo campaign with the Saeda pump, we've been wanting it. For a wedding anniversary, opt for the candy pink crystal embellished version. It's quite a statement piece, so keep the accompanying dress and accessories simple.
1995 USD on Mytheresa.com
SHOP NOW
Cinderella, Cinderella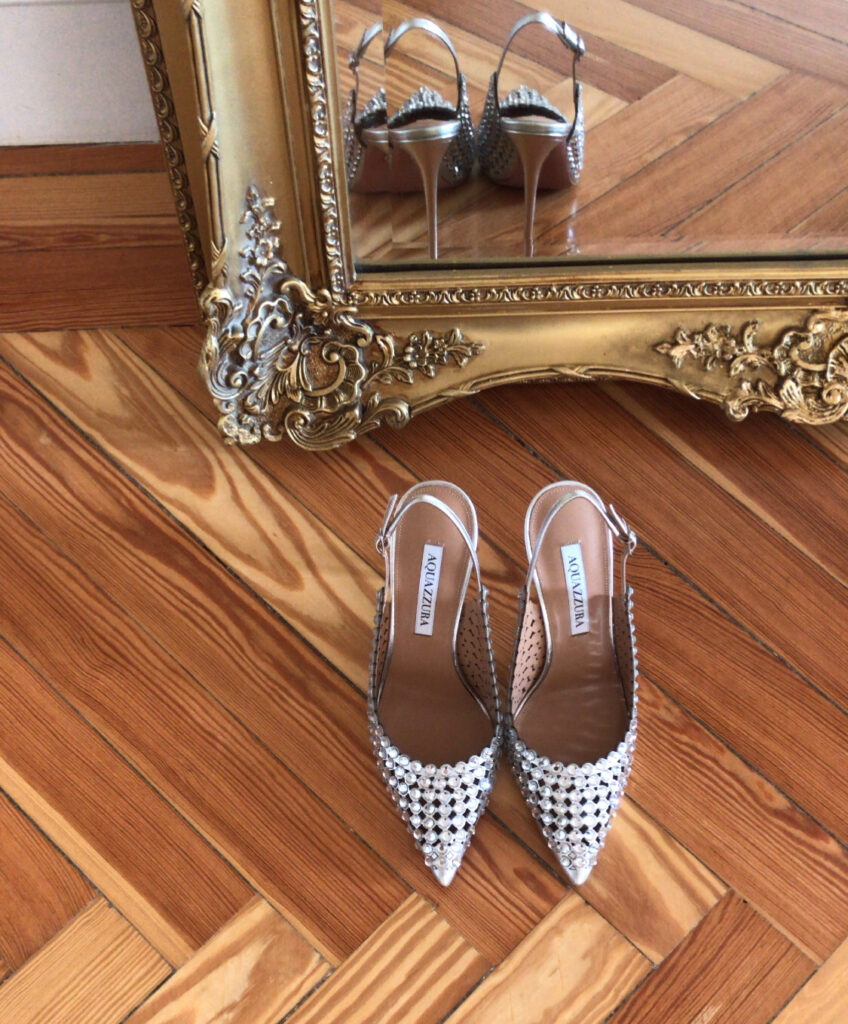 Aquazzura | Tequila Pump 105 mm | Silver
Style Notes: The photos really do not do these beauties justice. The Aquazzura Tequila pump (also available as sandal and flat, keep scrolling for those) will make you feel like Cinderella on your special day. A sparkly bag and pink dress would be a great option with these.
1,595 USD on Shopbop.com
SHOP NOW
PVC in pink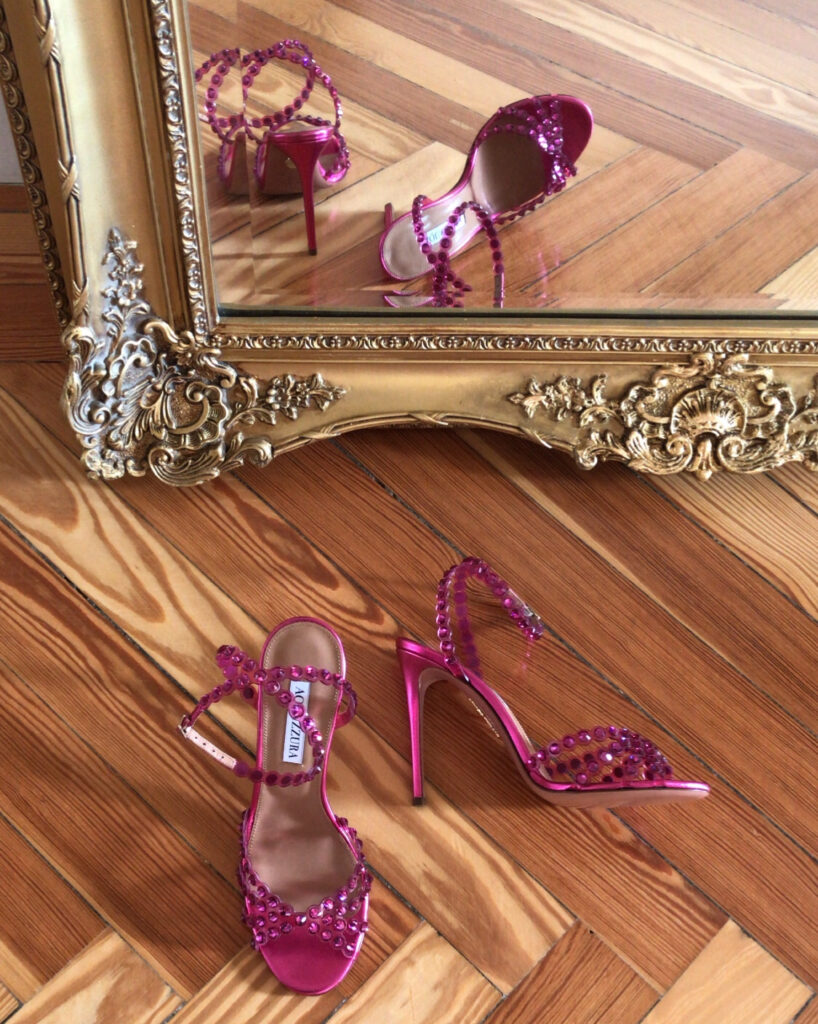 Aquazzura | Tequila Plexi Sandal 105 mm | Pink
Style Notes: The Tequila sandal first came out in leather and this season, is also available with PVC straps. Did you know that Sarah Jessica Parker wore these in the latest And Just Like That movie? Here's the photo on Who What Wear. Perfect for a summer occasion, they are available in a variety of colors, including pink, silver, yellow and blue.
1,350 USD on Mytheresa.com
SHOP NOW
Wrap it up like Cleopatra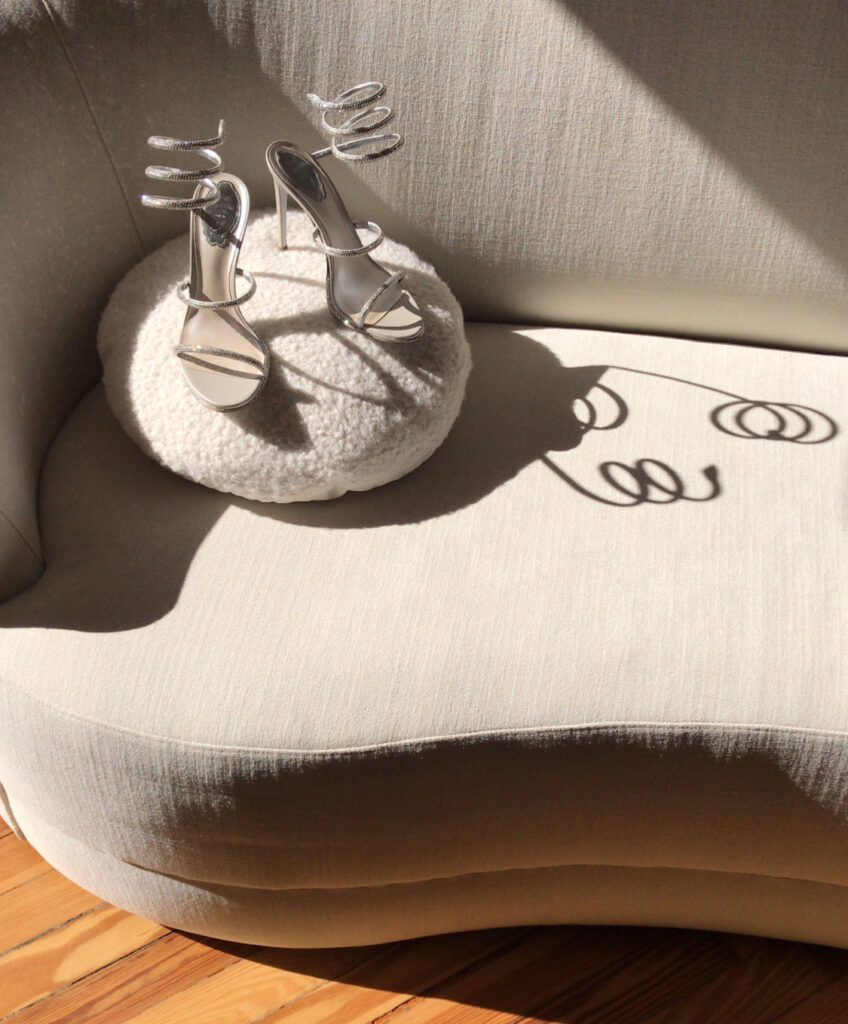 Rene Caovilla | Cleo Embellished Sandal | Grey Satin/C Silver Shade Strass
Style Notes: The Cleo sandal has embellished some of the most famous celebs' legs. In fact, did you know it first premiered in 1969 and was inspired by coiled Roman serpent bracelets dating back to the first century BC? That's right, wear a piece of history on your special day – they are best shown off with a high slit dress.
1,410 USD on Mytheresa.com
SHOP NOW
Linked by love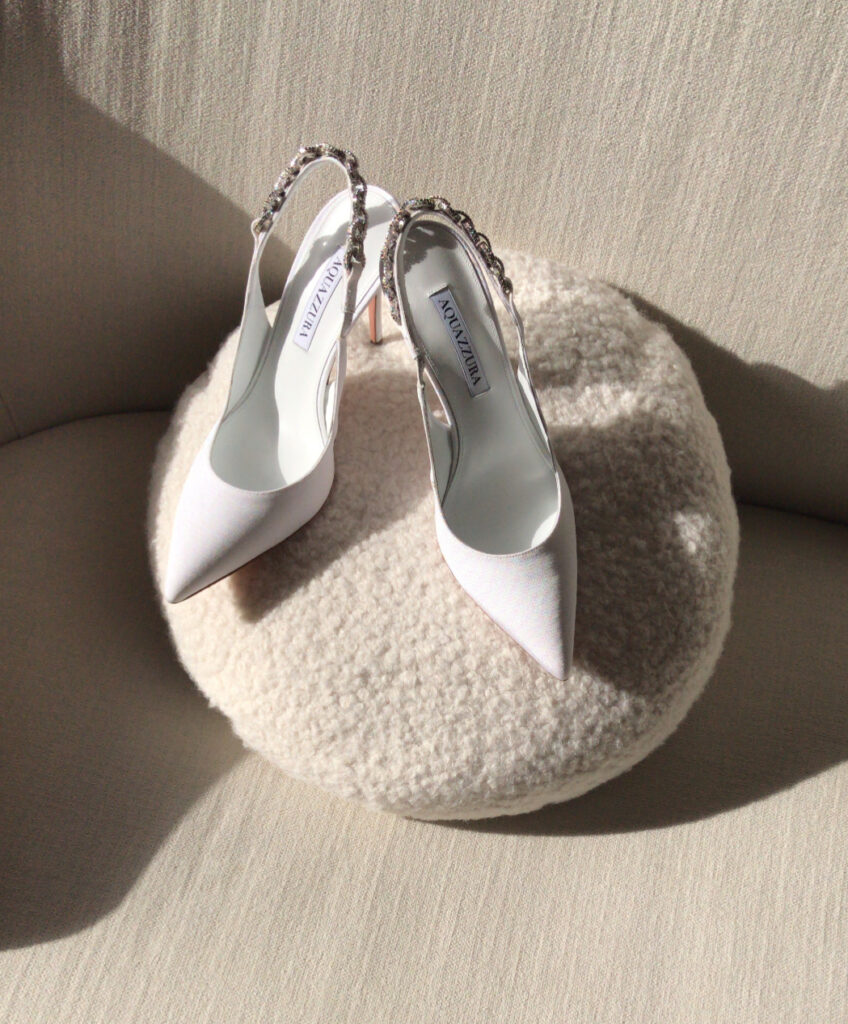 Aquazzura | Lovelink Sling 105 mm | White
Style Notes: If Kate Middleton is on board, then there must be something to these shoes. Kate wore them in blue (photo here), and the white version is great for a wedding, or wedding anniversary if paired with a non-white dress. Mytheresa and Net-a-porter both suggest going with a slinky silk dress for these.
1,095 USD on Mytheresa.com
SHOP NOW
Flats for all
Aquazzura | Tequila Sling Flat | Silver
Style Notes: Heels aren't for everyone. The Tequila flat is a sophisticated option that will have you shining all day and night. Like the pump, it goes well with a sparkly clutch and rose colored dress, for example.
1,495 USD on Aquazzura.com
SHOP NOW
A queen – in flats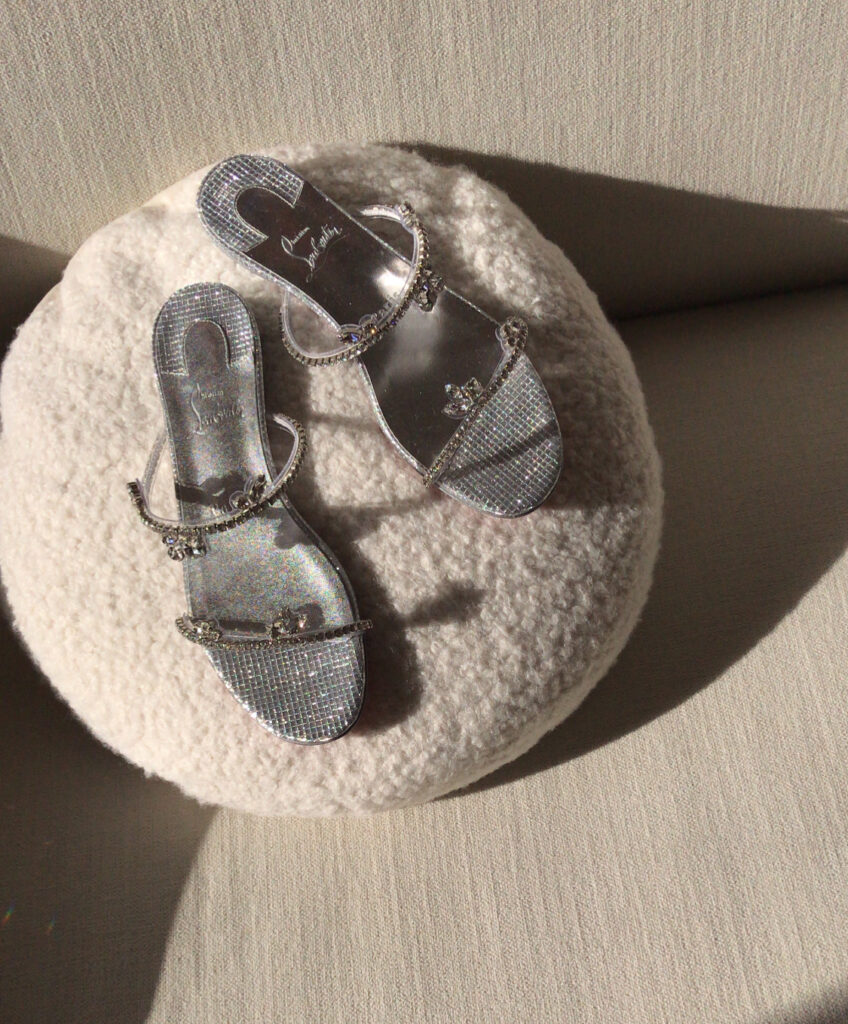 Christian Louboutin | Just Queenie Flat Sandals | Clear PVC/Silver
Style Notes: These are beautiful flats. Period. With a french pedicure (or even a bold red!), these will have you looking like a princess. They can be worn on the days after the anniversary party/dinner as well, if you and your loved one are going on a trip to celebrate it all! Enjoy!
1,195 USD on Net-a-porter.com
SHOP NOW