Welcome to The Director's Cut, an interactive column featuring fashion, beauty and career advice from RGNN Director and Founder, @isabelevabohrer.
Especially with the outbreak of the COVID-19 pandemic, the fashion industry has become increasingly aware that it needs to recalibrate towards more sustainable practices. Luxury fashion included. Thus when Mytheresa announced its partnership with Vestiaire Collective to, in the words of the official press release, "introduce a unique resale service dedicated to Mytheresa's high-end luxury customers to reinforce the shift to circularity as part of the fashion ecosystem," I was intrigued.
The service originally went live for selected Mytheresa top clients in Europe in June 2021, and after a successful launch, expanded to the US in July 2022. If you follow me on Instagram (@isabelevabohrer), you will know that I have been busy decorating our new home. With that has come a conscientious closet clearout – my style, over the years, has become more classic (although I still love a fantastic statement piece every now and then!).
When Mytheresa invited me to their Vestiaire Collective collab, I was happy to support a brand that supports sustainability, and give some of my designer pieces a second life. Case in point: my Christian Louboutin Fifre booties in black leather – I haven't worn these in a while since I have been gravitating more towards pointy heels instead.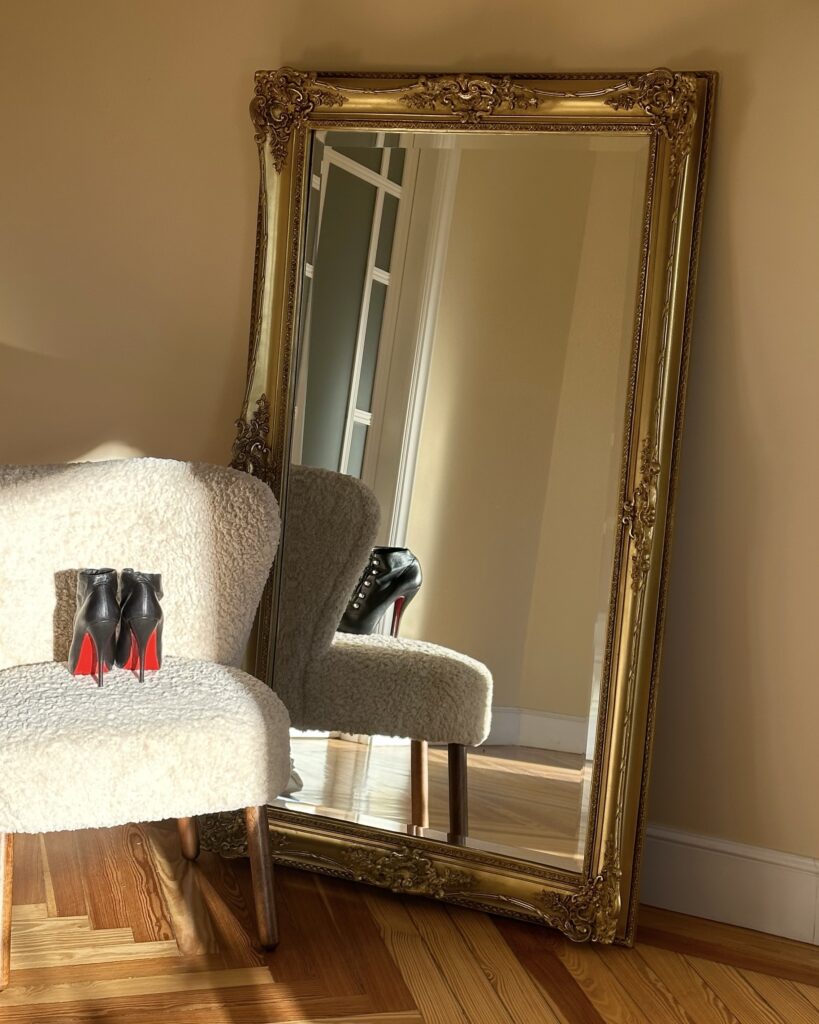 How it works – in a nutshell
Step 1: Shop at Mytheresa. The Mytheresa resale service is not open to everyone – you need to be directly apporached by Mytheresa. As stated in the press release, Mytheresa's top customers "are invited to participate via a dedicated landing page." If Mytheresa considers you a "top client," you will receive an email to try the Vestiaire Collective collab, and you will need to enter the email address associated with your Mytheresa account to access the service. (In an Hermès-like strategy, Mytheresa has not disclosed the minimum spend you need in order to qualify as a "top client"). That said, anyone and everyone can shop the Mytheresa X Vestiaire Collective items on Mytheresa's dedicated page on Vestiaire Collective here. If you have shopped at Mytheresa and have not (yet) been invited, you can also list your items on Vestiaire Collective on your own, as always.
Step 2: Enter your required personal information. Since they invited you, they already know who you are, but basically, re-enter it again so they know where to pick up your item(s).
Step 3: Upload info and photos of your item(s). Important: Mytheresa only accepts items from premium brands, and in specific conditions, so check the T&Cs before you even start taking your photos. You can upload up to five items in each request. Check the photo upload form requirements before you take your photos. You will need a light, clean background and then specific photos for each item. I recommend taking the photos in the order required by the form, that will save you time – you can re-order the photos once uploaded, but having them numbered (e.g. Louboutin1.jpg for the front view, Louboutin2.jpg for the sole, etc.) just makes things even easier.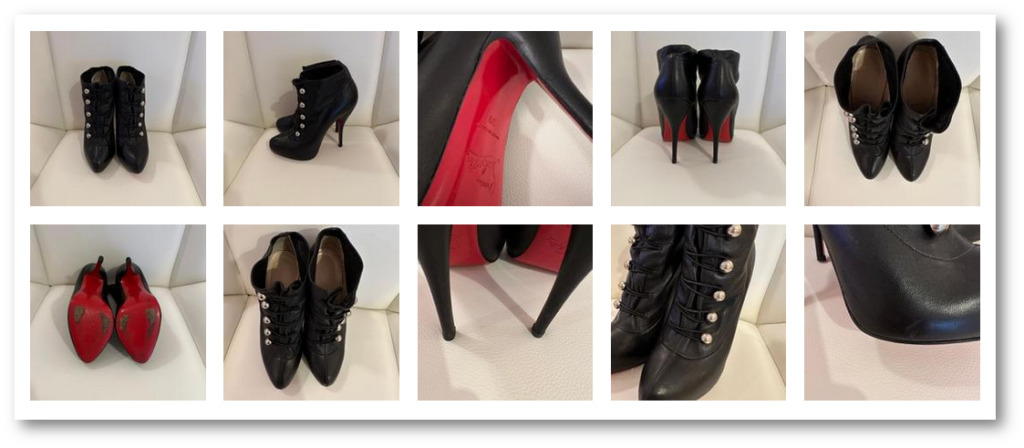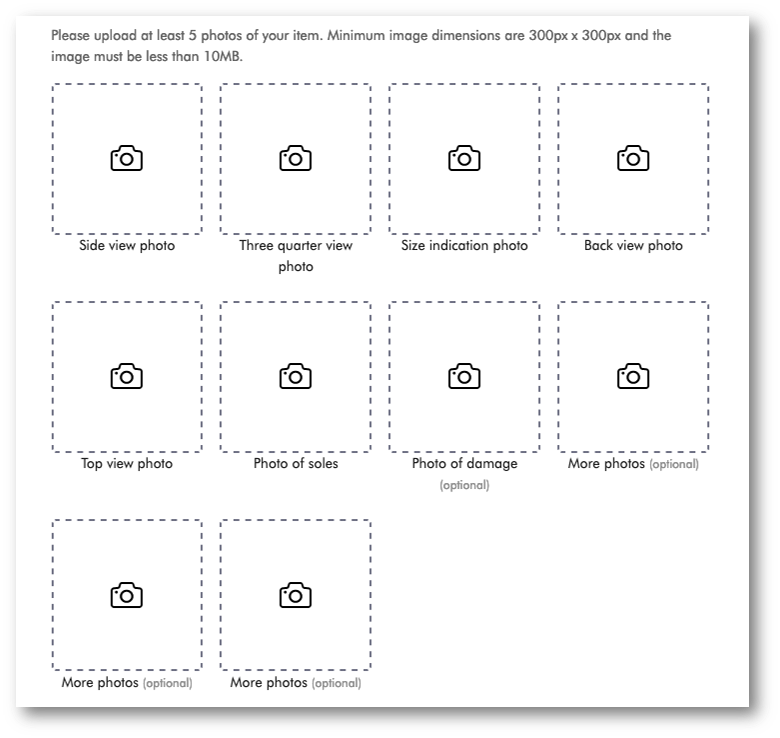 Step 4: You'll get an email with a price quote. If Mytheresa deems that your item, based on your photos, meets the requirements of the resale platform, they will offer you a price quote. This offer will be a baseline offer plus a 15% Mytheresa bonus, only valid for customers who received an invitation. You will have fourteen days to either accept or decline. If you are set on selling, accept directly. If you are debating whether you should resell through Mytheresa, you can, for example, search for similar items to yours on Vestiaire Collective (or other resale platforms), and see how much others have sold/are selling them for. Keep in mind that the price Mytheresa offers you might be lower, but they are also taking on all the hassle that selling pre-loved items on your own would entail.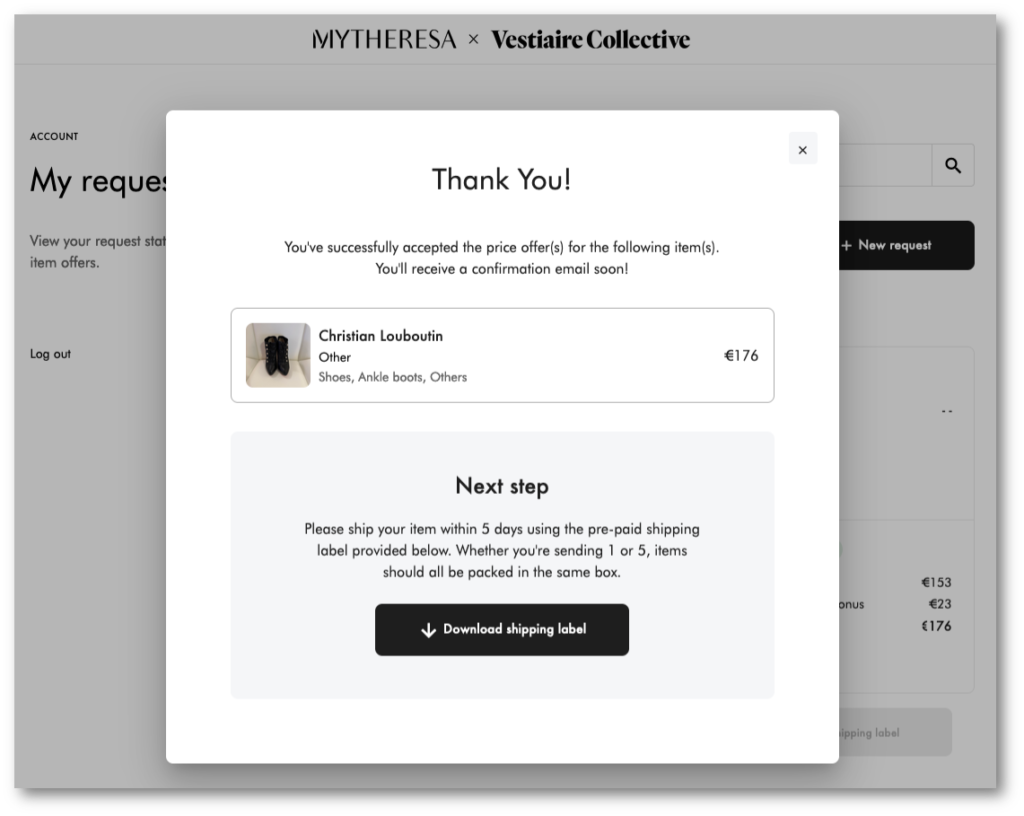 Step 5: If you accept, you'll receive a pre-paid label to ship your items. Once you click on "Manage offers" and "Accept," Mytheresa will send you a pre-paid label (in my case, it was DHL) to pick up your items on a scheduled day/time. Read the fine print: "Please note that if the item(s) does / do not match the pictures and description provided, a price reduction of up to 20% may be applied to the initial offer." (You should especially also keep this in mind when taking your photos, making sure to take close-ups of any signs of wear of your pre-loved items to avoid any sanctions!).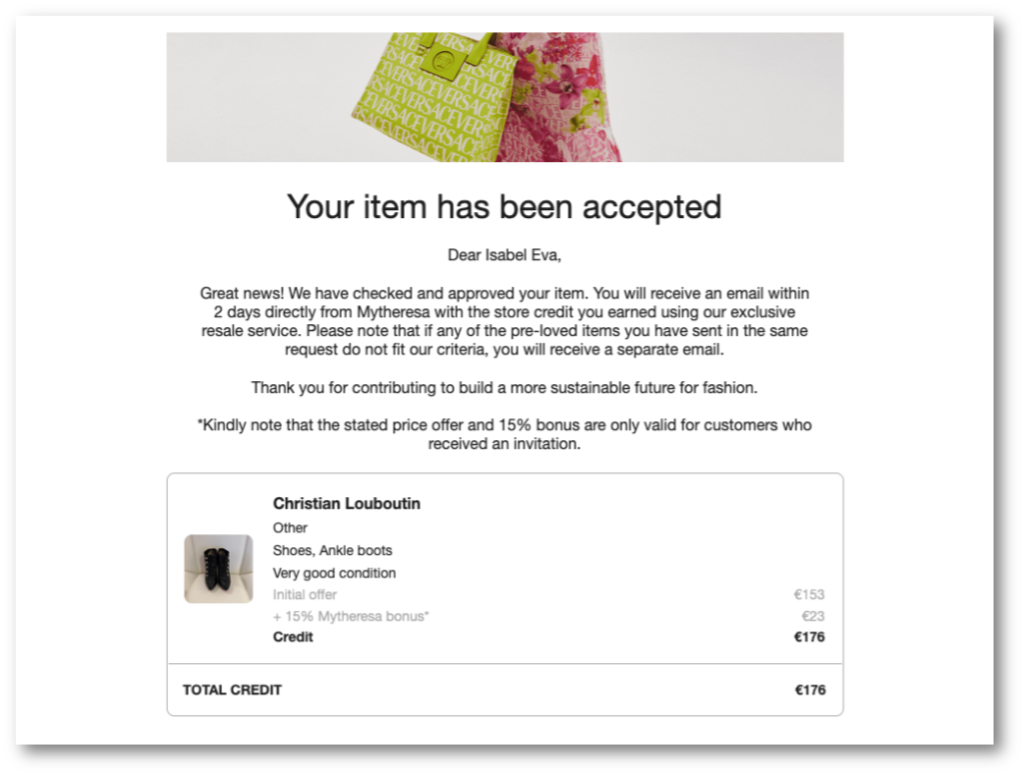 Step 6: Let the experts verify and receive your store credit! Once the item arrives at Vestiaire Collective's authentication center, and has undergone quality and authentication checks, you'll receive your Mytheresa store credit. I got my store credit within one day of Vestiaire Collective receiving the item (the store credit is sent out via email, it's a code you can use on your next purchase, valid for up to three years).
My experience with the customer service. The press release stated that, "a dedicated Mytheresa x Vestiaire Collective team is also available to support customers throughout their listing journey." The process is pretty self-explanatory, but when I did have a question, I messaged the team – the initial automatic response stated they would get back to me in a few hours (it ended up being slightly more, but no problem!) and everything went smoothly.
One last peculiarity – there is no account/password login for the service. If your session has expired, you will need to re-enter the email address associated with your Mytheresa account and get another email link to access where you left off.
Tl;dr
Mytheresa knows what it is doing here. You can't just submit any item and any brand (you have to choose from a list of select luxury brands and the item needs to be in very good or good condition, depending on the category – in other words, they only accept items they know they will be able to resell). Mytheresa has said that they would roll out to more categories, brands and markets (outside Europe and the US), so do keep checking back if you can use the service for your items in the near future.
The service is easy and fast to use – you don't need to write up a description (just choose from the dropdowns and upload your photos), DHL came to my door to pick up my pre-paid package, and the store credit was awarded within two business days as promised.
If you were to list the items on Vestiaire Collective (or another resale site) by yourself, you might be able to get more for your item, but you would also have to create a profile, chat with possible buyers, get reviews, etc., – Mytheresa makes reselling hassle-free and fast.
Would I use the service again? Yes, but I only recommend it if you shop and shop again on Mytheresa.com. (You are, after all, getting a store credit, not cash as in some other designer resale programs such as Designer Exchange, for example). Mytheresa is driving customer loyalty here. I now have three years to use the store credit on Mytheresa.com and am happy to have supported circularity in fashion along the way.
Questions or comments? Follow me on IG @isabelevabohrer and say hi! See you soon!