Avant-Garde Eyeliner Looks to Try This Season
Backstage Beauty🤍 📸 @alfredoflores #arianagrande #makeupbymanthony | @manthony783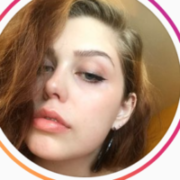 Raina von Zerneck
SUNY at Albany | USA
Raina is a 4th year undergraduate student studying Psych and…
Summer is a great time to experiment with your makeup. There is inspiration all around as the flowers have bloomed and the sun is shining! Colorful looks are most fashionable during the spring and summer and many makeup artists and designers alike pull inspiration from their surroundings. Lately, there has been a trend of experimenting with eye looks. Whether it be simplistic or extravagant, people are making their eyelids into works of art!
Though avant-garde makeup and fashion is not new, it would be naïve to say the HBO series "Euphoria" did not re-popularize the use of avant-garde makeup as an everyday look. Makeup artist Doniella Davy is the makeup department head for the show and her and her team can be credited with creating some of the series' most iconic looks that people are still re-creating, even months after the end of the first season. If you visit Doniella's Instagram page (@donni.davy) you can see all her beautiful abstract makeup, including looks she did for "Euphoria".
Here, I will be showcasing a few beginner-friendly avant-garde looks if you want to try out this trend at home:
White eyeliner by makeup artist Michael Anthony (@manthony783) on Ariana Grande for the "Rain On Me" music video
60's/70's inspired eye look by content creator Lydia Moreno (@shamlesslydia)
Red glitter eyeliner by makeup artist Elvira Pulet (@epuletmakeup)
Do you have what it takes to write about beauty?
Apply now and get published on RGNN!