July 2-15, 2018.
It is a historic moment to visit Cuba. A historic moment to create art in Cuba. This summer, you have the opportunity to do so.
ROOSTERGNN is accepting applications for its Artist Residency program in two of Cuba's UNESCO World Heritage cities: the capital, Havana, and the colonial town of Trinidad. A once-in-a-lifetime opportunity. Apply now!
Open to writers, journalists, bloggers, photographers, filmmakers, videographers, new media artists, graphic designers, visual artists, dancers, actors/actresses, musicians and composers.
Limited spots available. Open to all nationalities, including U.S. applicants.

ONE WEEK IN HAVANA, ONE WEEK IN TRINIDAD.
Anyone who has visited Cuba will tell you that it is a trip they will never forget. The historically rich UNESCO World Heritage cities, the spectacular landscapes, the friendly people, the classic cars – Cuba is the pearl of the Caribbean.
This year, ROOSTERGNN is selecting a group of Artists-in-Residency for a unique two-week Artist Residency in two of Cuba's most beautiful cities: Havana and Trinidad.
Explore the rich artistic culture of the Cuban capital, where modern art galleries are popping up alongside traditional Cuban artists on view at the Museo de la Revolución. Don't miss out on the street artists, be it graffiti sprayers or the countless musicians that sing and dance on the bustling streets. And at any time of day, take an inspiring and refreshing stroll down the Malecón, Havana's iconic boardwalk. If you're into the history of the mafia, the Hotel Nacional and the Hotel Sevilla will allow you to travel back in time. And above all, don't forget to take a ride in a classic car.
And then there's Trinidad, a 500-year-old colonial town, where horses and cowboys still abound on the cobblestone streets. Trinidad is ideal for artists, be it for photographers capturing the color-blocking architecture at sundown, or dancers looking to immerse themselves in the salsa culture.
Our program in Cuba is based on full cultural immersion, a 360-experience of the Cuban lifestyle, all while working on a project that you love.
PROJECT SCOPE.
Every Resident works on a self-directed creative project throughout his or her Residency. Candidates should detail their project proposal in the application form. It is not required that residents finish an entire project during their stay at the Cuba Residency; you can work on a project you have started elsewhere, or work on a project in a brainstorming format and continue to work on it after the program.
Language. The Residency is open to all nationalities and languages. We remind Residents that our attention and communications are conducted exclusively in English or Spanish.
CUBA ARTIST RESIDENCY OPEN TO:

Writers. Applications are open to writers of all literary disciplines: fiction, non-fiction, poetry, short stories, etc. The proposal can be to work on an existing project (e.g. if you are already working on a book) or to complete an entire project during your residency in Cuba (e.g. a collection of poems about Cuba). All languages admitted.

Journalists and Bloggers. As a news agency, RGNN.org also welcomes journalists and bloggers-in-residence. Proposals can be based around a specific theme, e.g. reporting on current events or around a theme, e.g. art, culture, sports, travel, fashion, style, food, etc. If the Resident is interested in publishing his or her texts on RGNN.org, they must be written in English or Spanish.

Photographers. Photographers can be of all different disciplines, from artistic photography to street photography to photojournalism. Selected works may be published on RGNN.org.

Filmmakers and videographers. Filmmakers of all disciplines are welcome: film, short film, documentary, video, etc. Selected works may be published on RGNN.org.

New Media Artists and Graphic Designers.
Applications are open all artists who use new media and/or graphic design to create art.

Visual Artists. Applications are open to visual artists of all disciplines (painting, drawing, sketching, etc.)

Dancers and Actors/Actresses. Applications are open to dancers and actors/actresses. We recommend that those Residents interested in dance take advantage of their stay to be inspired by the salsa culture in Cuba and its varied ethnic dances. Residents interested in the field of theater may also consider attending plays at the Gran Teatro de La Habana, for example.

Musicians and Composers. Applications are open to musicians and composers. The Resident must carry his/her own material (e.g. instrument) to carry out his/her project; we recommend that the dimension of the materials be transportable since the Residency is carried out in two cities: Havana and Trinidad.
Important note.

Residents will need to provide their own materials to complete their artistic project (e.g. depending on discipline: laptops, cameras, tripods, paints, instruments, etc.) Please make sure that your materials can be transported easily as the Residency takes place in two cities: Havana and Trinidad. 
WHAT'S INCLUDED.
You focus on your art. We take care of the rest.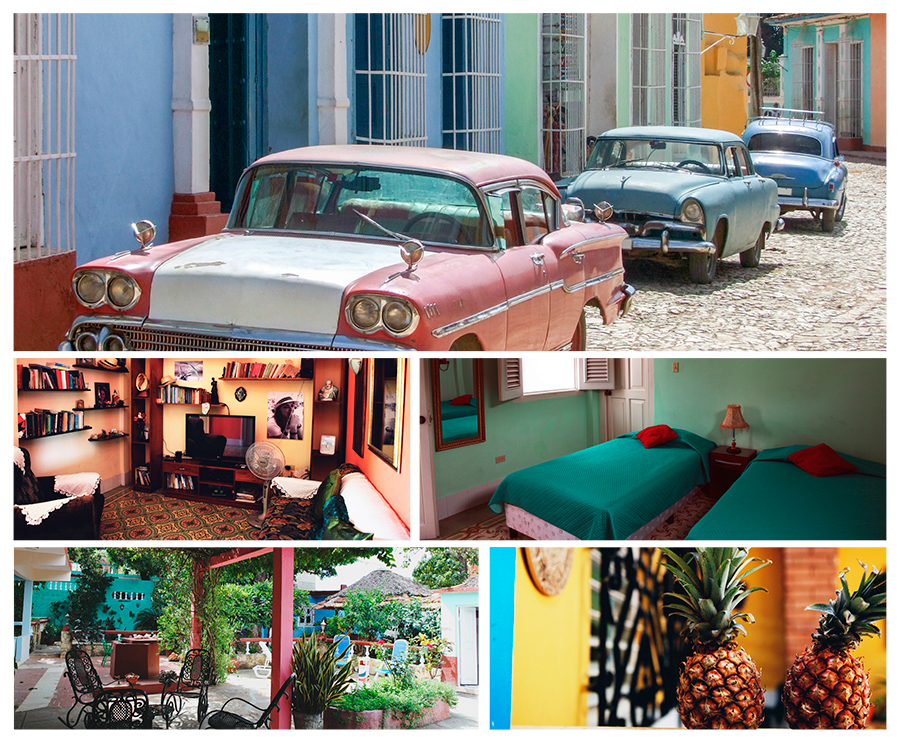 Accommodation in central Havana and central Trinidad, Cuba.

The Residency Fee includes housing in colonial "boutique" style houses with Cuban host families specifically selected by RGNN in Central Havana and Central Trinidad, with a Cuban family to welcome and attend to them. The accommodation is shared in double rooms (2 individual beds). The rooms, of a colonial style, are spacious and well illuminated, and all of them have their own bathroom and air conditioning. All of the houses moreover have a spacious common area, such as a salon or rooftop terrace, for Residents to work on their projects. RGNN will assign accommodation.
Thirteen (13) nights: six (6) nights in Havana and seven (7) nights in Trinidad.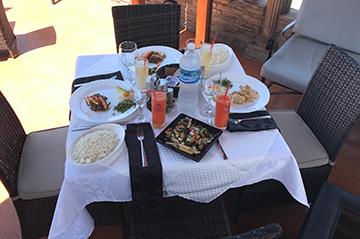 Food: Half-board (Breakfast and Lunch).
The Residency Fee includes half-board: breakfast and lunch.
Breakfast. Breakfasts take place at the "boutique" style accommodations in Havana and Trinidad. The breakfasts are ample, and usually include, depending on the house, cheese, ham, bread/sandwich, butter, jam, honey, eggs or omelettes, sweets and desserts, pies, in addition to coffee, tea, milk, juice, for example.
Lunch. Lunches takes place at the "boutique" style accommodations and/or traditional Cuban "paladares" (restaurants) in Havana and Trinidad. On travel days (e.g. the day Residents transfer from Havana to Trinidad), the lunch will include a packed lunch.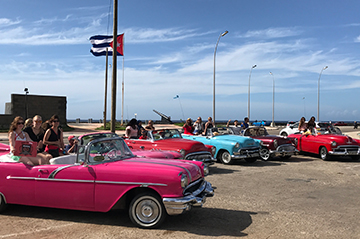 Transportation: Airport Pick-Up / Airport Drop-Off / Transfer Havana-Trinidad-Havana.

The Residency Fee includes the following:
Airport Pick-Up from José Martí International Airport in Havana on July 2, 2018.
Airport Drop-Off from José Martí International Airport in Havana on July 15, 2018.

The departure and arrival of the shared transportation to/from the airport will be communicated to accepted Residents before the start of the Residency.
Transportation Havana-Trinidad-Havana. Residents will transfer as a group from Havana to Trinidad and back to Havana.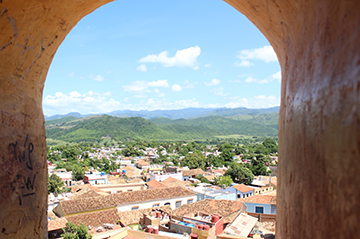 Local Emergency Support, 24 hours.

In addition to the Orientation Coordinator, who is in charge of logistics and at the Residents' disposal for orientating them in Cuba and with their projects (see benefits here), the Residency has local, bilingual (English and Spanish) emergency support staff available 24 hours a day.
DATES AND RESIDENCY FEES.
DATES.
Applications are open for the following dates:
Monday, July 2, 2018 to Sunday, July 15, 2018.
LIMITED SPOTS AVAILABLE.
RESIDENCY FEES.
Residency Fee.
3,000 Euros.
500 EURO SCHOLARSHIPS.
RGNN's benefactor, FACTHOUS, is offering need-based scholarships of 500 Euros for our Residencies. Please apply here.
THIRD-PARTY FUNDING.

Please consult the following links for information about third-party funding.
Application Deadline.
Limited spots available. Applications are rolling, once spots fill up, applications will be closed.