PURSUE YOUR CREATIVE PASSION.
Do what you love. Let the creative juices flow. All while livin' la vida local in Madrid, Spain. Sound too good to be true? Here's your chance.
ROOSTERGNN is accepting applications for its Artist Residency program in Madrid, Spain for 2018 and 2019. Open to writers, journalists, bloggers, photographers, filmmakers, videographers, digital artists, graphic designers, social media artists, creative programmers, coders, entrepreneurs and innovators. Ten spots only. Don't miss out!
Spots limited to ten (10) artists-in-residence
MADRID: CAPITAL FOR CREATIVES.
It is no wonder that Madrid is breaking tourist records year after year. The most visited city in Spain, Madrid received more than 8.8 million tourists in 2015.
The city's rich culture, including its Golden Art Triangle, -framed by the Prado Museum, the Thyssen Museum, the Reina Sofia Museum and now the Caixa Forum,- is famous worldwide. Alternative galleries showcasing international independent artists are popping up all over the city as well. From Malasaña to the Barrio de las Letras, Madrid's diverse neighborhoods are steeped in history, ideal for reflective strolls, both day and night.
In recent years, Madrid has moreover become named "capital of fashion" ("capital de la moda"), perfect for those interested in investigating clothes as a socio-cultural reflector that transcends class and provenance. So, too, is the city home of the Spanish language, and one can retrace the footsteps of numerous legendary writers, from the Quijote to Hemingway, in and around Madrid.
The city's proximity to other Spanish towns and cities make for active adventures, be it a day-trip to Toledo or a weekend getaway to Barcelona. On a weekend in Madrid, on the other hand, you can enjoy the Retiro Park or even a typical Real Madrid soccer match – and let's not forget the delicious food and tapas. There's something in Madrid for all tastes!
PROJECT SCOPE.
Every Resident works on a self-directed creative project throughout his or her Residency. Candidates should detail their project proposal in the application form. It is not required that residents finish an entire project during their stay at the Madrid Residency; you can work on a project you have started elsewhere, or work on a project in a brainstorming format and continue to work on it after the program.
Language. The Residency is open to all nationalities and languages. We remind Residents that our attention and communications are conducted exclusively in English or Spanish.
ARTIST RESIDENCY OPEN TO:

Writers. Applications are open to writers of all literary disciplines: fiction, non-fiction, poetry, short stories, etc. The proposal can be to work on an existing project (e.g. if you are already working on a book) or to complete an entire project during your residency in Madrid (e.g. a collection of poems about Spain). Texts can be written in all languages.

Journalists and Bloggers. As a news agency, RGNN.org also welcomes journalists and bloggers-in-residence. Proposals can be based around a specific theme, e.g. reporting on current events or around a theme, e.g. art, culture, sports, travel, fashion, style, food, etc. If the Resident is interested in publishing his or her texts on RGNN.org, they must be written in English or Spanish.

Photographers. Photographers can be of all different disciplines, from artistic photography to street photography to photojournalism. Proposals can be based around a specific theme, e.g. a series photographing street art in Madrid. Selected works may be published on RGNN.org. Photographers can take advantage of the RGNN photo and video studio to shoot work as well. Please note that photographers should provide their own photography (camera, tripod, etc.) and editing equipment.

Filmmakers and videographers. Filmmakers of all disciplines are welcome: film, short film, documentary, video, etc. Selected works may be published on RGNN.org. Filmmakers can take advantage of the RGNN photo and video studio to shoot work as well. Please note that filmmakers should provide their own film (camera, tripod, etc.) and editing equipment (e.g. Final Cut Pro or your editing program of choice).

Digital Artists and Graphic Designers.
Applications are open all artists who use digital media to create art and design, from Photoshop to Illustrator to online image and video creation tools. Please note that you should provide your own editing equipment (e.g. Adobe Suite).

Social Media Artists. Applications are open to artists who use social media in their art form. Content should be specifically created for social media (e.g. gifs, videos, images, photos, etc.). Social media artists can take advantage of the RGNN photo and video studio to shoot flat lays and other installations, for example. The "virtual studio" created by the artist may be shared on RGNN social media profiles using the hashtag #RGNNresidency.

Creative Coders. Applications are open to creative coders and programmers, who use coding languages to create tools, apps or art. From HTML to CSS to Ruby on Rails, projects can be as creative as the candidate desires. It is not necessary to finish an entire coding project during the residency, but the proposal should detail what the candidate proposes to work on.

Entrepreneurs and Innovators. The ROOSTERGNN Residency welcomes entrepreneurs looking to create and launch an innovative business idea. It is recommended that entrepreneurs take advantage of Madrid to conduct market research and business meetings, for which the conference room facility is at their disposal. It is not necessary to launch an entire business during the residency, but the proposal should detail what the candidate proposes to work on.
WHAT'S INCLUDED.
You focus on your art. We take care of the rest.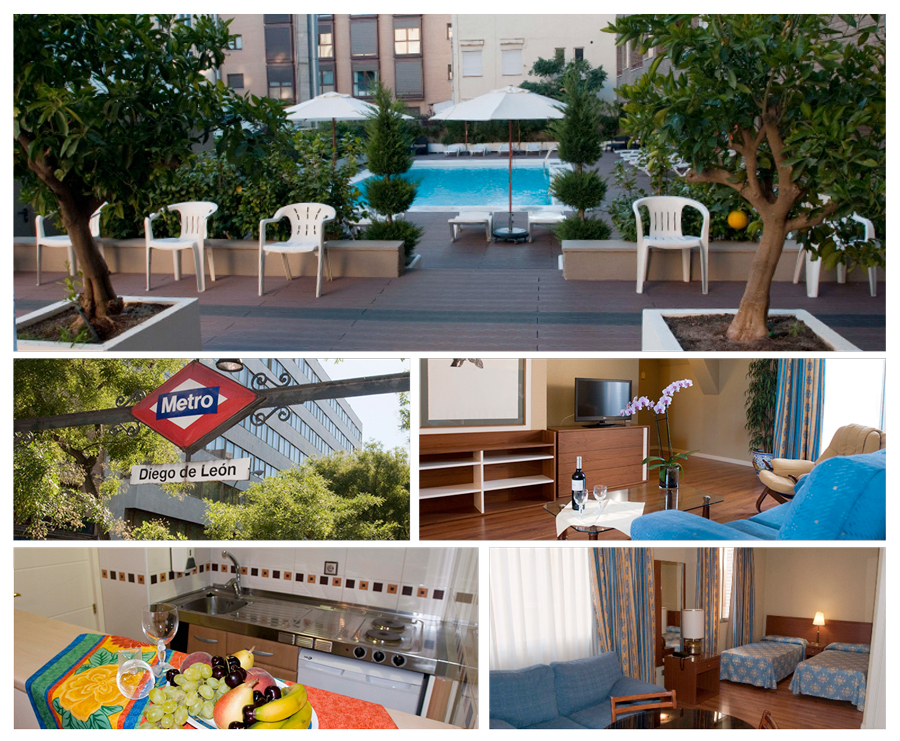 Accommodation in central Madrid, Spain.
Accommodation can be in shared (double, 2 people) apartments or single (1 person) apartments. Please indicate your choice in the application form.
Each apartment is furnished with the following facilities:
Furnished apartment
Own bathroom
Own kitchen, complete with fridge, stove, microwave and cooking utensils
Air-conditioning / heating, depending on season
Cleaning and changing of sheets and towels
Wifi
Facilities.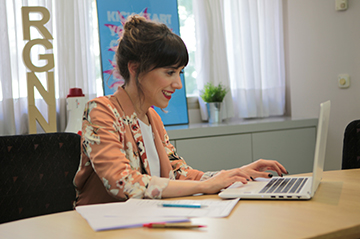 Brainstorming Room.
Residents will have access to a shared "Brainstorming Room" with work tables and wifi internet connection to work on their creative projects. The Brainstorming Room will be open from Monday through Friday. Exact opening hours subject to the Residency opening hours.Note. All Residents should bring their own laptops to work on their projects.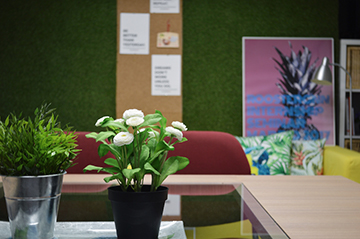 Conference Room.
Residents will have access to a Conference Room to conduct meetings and conferences. Access to the Conference Room will be based on availability (there will be a sign-up sheet to fill out).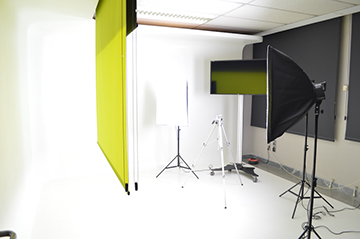 RGNN Photo and Video Studio.
Residents will have access to the RGNN Photo and Video Studio, a professional photo and video studio complete with white infinity backgrounds, green backgrounds and black backgrounds as well as professional lighting and a clothing rack. Residents can use the studio to shoot and photograph for their creative projects. Access to the Studio will be based on availability (there will be a sign-up sheet to fill out).


Optional: Portable wi-fi router with internet connection.



24 hour concierge, ready to answer all your questions, always a friendly face at home



Laundromat, dryer and ironing room in the same Residency building.



Don't miss anything; we'll take care of receiving your packages and letters in Madrid.



Amazing common areas – like a swimming pool and sundeck open during the summer!


Always bright and spotless. Cleaning service included so you don't have to stop working.

DATES AND RESIDENCY FEES.
DATES.
Applications are open for 2018 and 2019 for 10-night periods.
2018.
October 1, 2018 to October 11, 2018.
October 11, 2018 to October 21, 2018.
October 21, 2018 to October 31, 2018.
November 1, 2018 to November 11, 2018.
November 11, 2018 to November 21, 2018.
November 21, 2018 to December 1, 2018.
December 1, 2018 to December 11, 2018.
December 21, 2018 to December 31, 2018.
2019.
January 1, 2019 to January 11, 2019.
January 11, 2019 to January 21, 2019.
January 21, 2019 to January 31, 2019.
February 1, 2019 to February 11, 2019.
February 11, 2019 to February 21, 2019.
February 21, 2019 to March 2, 2019.
March 1, 2019 to March 11, 2019.
March 11, 2019 to March 21, 2019.
March 21, 2019 to March 31, 2019.
April 1, 2019 to April 11, 2019.
April 11, 2019 to April 21, 2019.
April 21, 2019 to May 1, 2019.
May 1, 2019 to May 11, 2019.
May 11, 2019 to May 21, 2019.
May 21, 2019 to May 31, 2019.
June 1, 2019 to June 11, 2019.
June 11, 2019 to June 21, 2019.
June 21, 2019 to July 1, 2019.
July 1, 2019 to July 11, 2019.
July 11, 2019 to July 21, 2019.
July 21, 2019 to July 31, 2019.
August 1, 2019 to August 11, 2019.
August 11, 2019 to August 21, 2019.
August 21, 2019 to August 31, 2019.
September 1, 2019 to September 11, 2019.
September 11, 2019 to September 21, 2019.
September 21, 2019 to October 1, 2019.
RESIDENCY FEES.
Standard Residency Fee:
600 Euros. Shared (double) apartment/10 nights.
950 Euros. Private apartment/10 nights.
Note. Saturday, September 1, 2018 to Sunday, September 30, 2018. One spot left for a shared room with a monthly Residency fee of 1,500 Euros.
The swimming pool and sundeck are open subject to the weather, usually open all of June, July, August.
Application Deadline.
Limited spots available. Applications are rolling, once spots fill up, applications will be closed.
Please read full program for payment terms
Scholarships and Third-Party Funding.

RGNN's benefactor, FACTHOUS, is offering one final need-based scholarship of 500 Euros for the shared apartment still available for September 2018. Please apply here.
To simplify application and enrollment processes, all Residency fee packages are already being subsidized by RGNN.org. Therefore, no additional scholarships are being planned for the Artist Residency in Cuba in 2019.
Please consult the following links for information about third-party funding.