How To Take Instagram-Worthy Photos in Ugly Places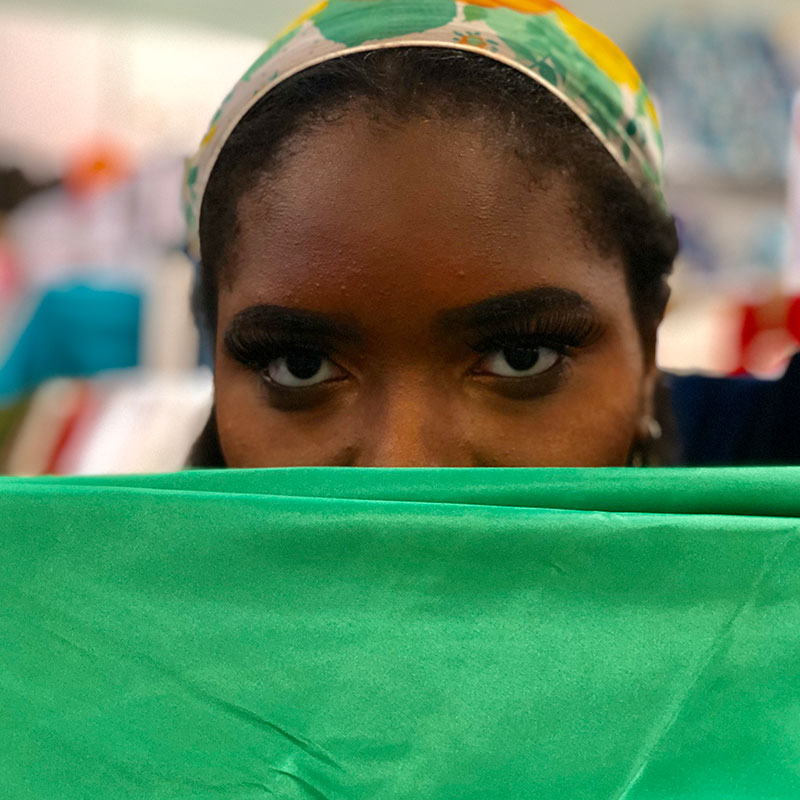 Jas Thomas | Alicia Owens
For a while, influencers were posting beautiful pictures with interesting backgrounds, to say the least. The Ugly Location Photo Shoot Challenge, while wordy, provides a fun way to take pictures that challenge the photographer to conjure up a stunning image from a drab setting.
I took my friend and model, Jas Thomas, to a few spots around town that seemed less than perfect for a photo shoot, but with the right eye, we were able to find gorgeous results.
Location #1: Empty parking lot
No matter where you are, there's sure to be an empty parking lot nearby. This was our first spot for pictures, though an unexpected rain shower cut the session short.
Tip #1: Check the weather before you choose a location. In our case, it ruined the first part of the photoshoot, but if you plan correctly, you can use the weather to your advantage. A cute shot with an umbrella or a raincoat that features the parking lot behind your model could provide you with a shot that looks professionally set up.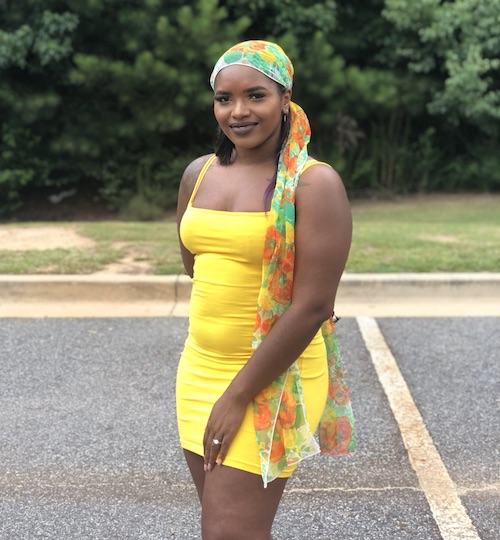 Here, Thomas chose a simple pose in front of a drab green and grey background, making her outfit the focal point of the photo.
Tip #2: Style your model in an eye-catching outfit. At this particular location, the background didn't offer much movement or color, so the yellow dress and tropical headscarf that Thomas wore made this dull setting appear a little brighter. With "ugly location" photos like these, a well-dressed model can elevate the image, regardless of the setting.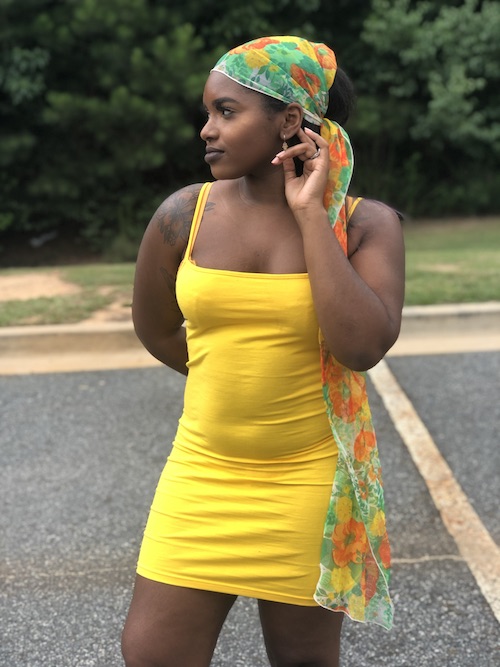 Location #2: Local grocery store
Again, this is a location that everyone should have access to, but make sure that there are no rules against filming or taking photos at your store of choice. We determined that our local superstore was the best option: with clothes, groceries, and more, we were bound to find a few spots that could yield quality photos.
Tip #3: Look for backgrounds with lots of color, even if you have to move things around a little. The first photo we took here was in front of a fake flower display, but the way we found it, there were a few empty spots that we had to fill in. We moved the flowers around until the background was mostly full, and none of the flowers clashed with the colors on the model.
It's okay to move things around for your photos, and as long you don't do anything drastic, you can always put things back into place. Never leave a location worse than you found it!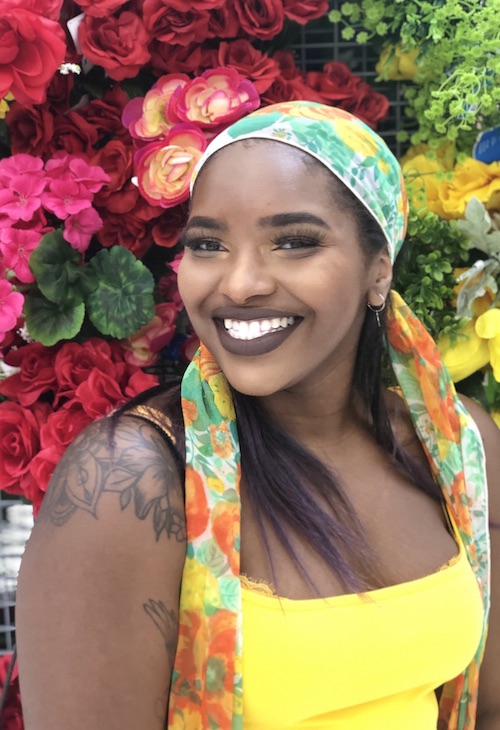 The second photo we took was one of the more difficult of the day. At first, we wanted a picture of Thomas in the frozen food section through the frosted door to the cooler. However, the timing and the angles of the photo proved taking this image impossible. There was either too much frost on the door or not enough. We settled for this pose and placement, in front of the colorful tubs of ice cream.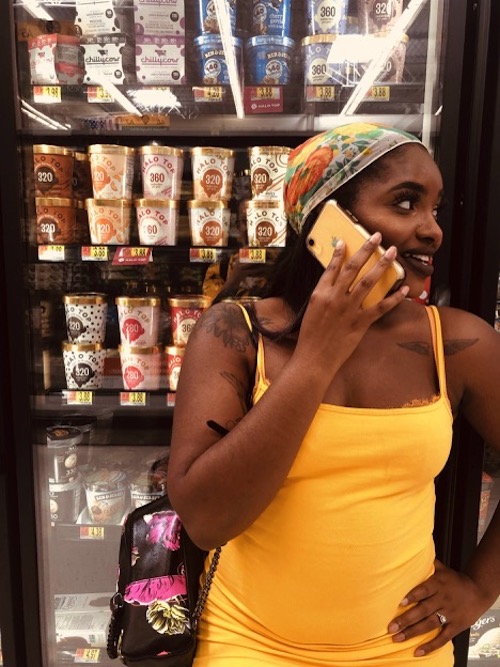 Tip #4: Take photos that set up cute Instagram captions. With this photo, Thomas is using her phone as a prop so that the caption can be something cute, such as "When ice cream calls!" Don't forget emojis and hashtags to make the entire post sweeter than a sundae.
Location #3: Craft store
There are endless possibilities for fun photos in a craft store. This is a perfect location for a seasonal photoshoot because craft stores tend to sell decorations for whatever holiday is coming up next. We focused on the craft supplies as our inspiration for this location, which works just as well for the challenge at hand.
Tip #5: Use props that are easy to manipulate. We went straight to the fabric section here and pulled two spools that tied to the colors in Thomas's outfit. We took the most photos with these props, trying to find the best way to hold the fabric and feature it in the shot somehow.
Try to find something that compliments the colors on your model or provides more movement to the photo.
We tried a few shots with two different fabrics, and here are the photos we got.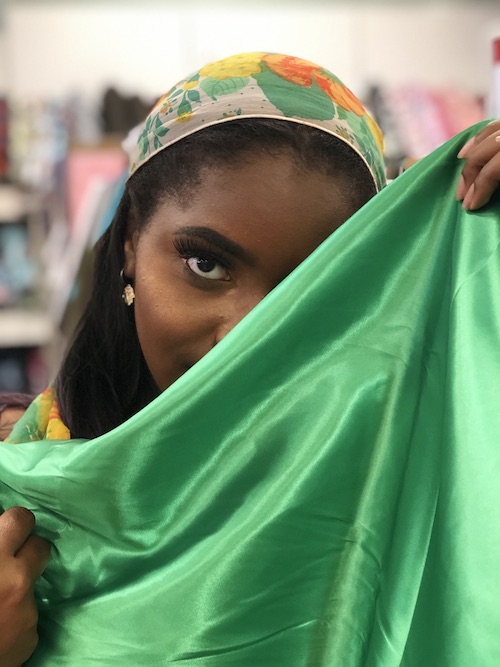 Location #4: Fast food restaurant
When planning a photo shoot, a fast food chain might be the last place you have in mind, but it's pretty nice being able to grab a snack after you're done shooting. We knew that this particular restaurant keeps fresh flowers on each table, so we ordered and took photos while we waited for our food.
Tip #6: Natural light is your best friend. At this location, we chose a table with flowers that matched the colors on Thomas's headscarf, but from there, we let the sun do all the work. This photo is unedited, with natural light filtering through the line of cars at the drive-through outside, and it's one of our favorites from the day.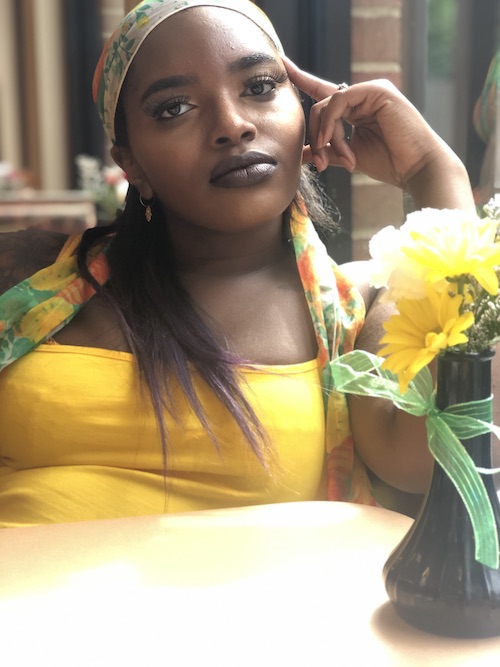 Everyone, from professional photographers to a couple of friends with a camera, can participate in this challenge. If there's one thing that we learned from this adventure, it's that there's plenty of beauty in the mundane things all around us. Hopefully with these tips and location ideas you'll go out and take your own beautiful pictures in these "ugly" locations.
Updated: January 16, 2019
Do you have what it takes to write about fashion?
Apply now and get published on RGNN!