Five Sustainable Lingerie Brands to Switch to NOW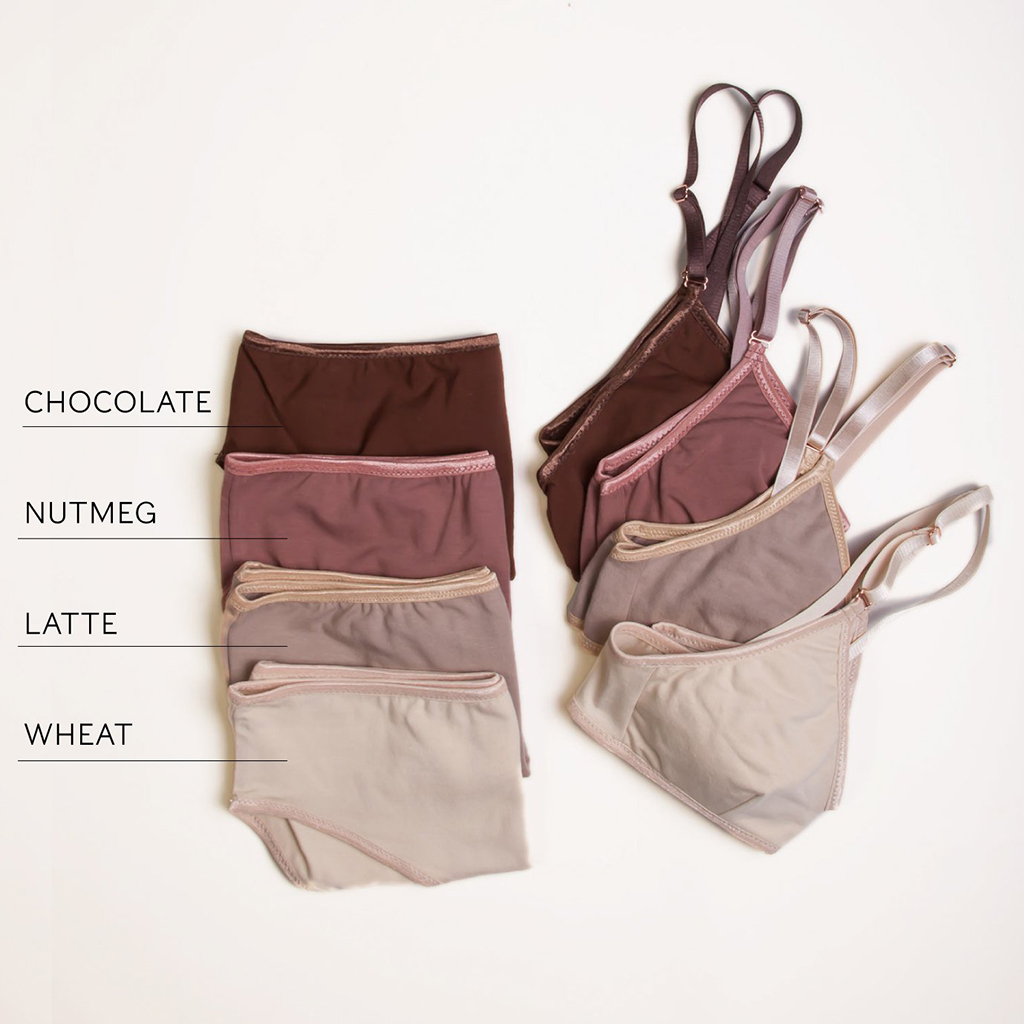 Five Sustainable Lingerie Brands to Switch to NOW | Photo by Brook There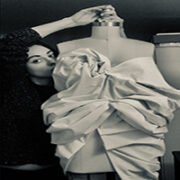 Megan Taylor
Parsons the New School for Design | USA
Megan Taylor is a student in her third year at…
Let's face it..what's the number one item people replace and go through fastest? Socks and underwear (that would include lingerie ladies). So, instead of making a quick run to your Aerie, Victoria's Secret, or the Target; take a moment to open your mind to these blossoming brands and designers who have their environmental impact under (*winks*) control.
Each year the fashion industry alone contributes to fifteen MILLION tons of fabric waste according to the Environmental Protection Agency. (Your bras and panties are one of those pesky items that all too often aren't so easy to go drop off at the thrift store for resale like that old Prada bag). That's a lot of old and worn out fabric just sitting there. The lingerie and swimwear industry are particularly concerning as the majority of your lace and silky satin teddies are more than likely, lined or combined with some sort of synthetic fibers…nylon, acetate, shall we go on?
Many textiles used to create our undergarments are not exactly compostable as they are created in laboratories. And as lingerie focuses on the sale of smaller garments, they are typically manufactured en masse and sell at a cheaper price point than your jumpers, coats, blouses, trousers.
I've gone ahead and done the work for you in this post to research some well-worthy brands who are on the right side of history, with the right mission…to sustain the planet and repair this MESS! Let's start with our basics for everyday wear.
Why I love It: Chocolate, Nutmeg, Latte, Wheat. Great on all skin tones, this is as basic as it gets. Of course they have multiple colors and styles too. But obviously, for we twenty-something's money is probably tight right now and at the bare minimum you know you've got to have your everyday pieces.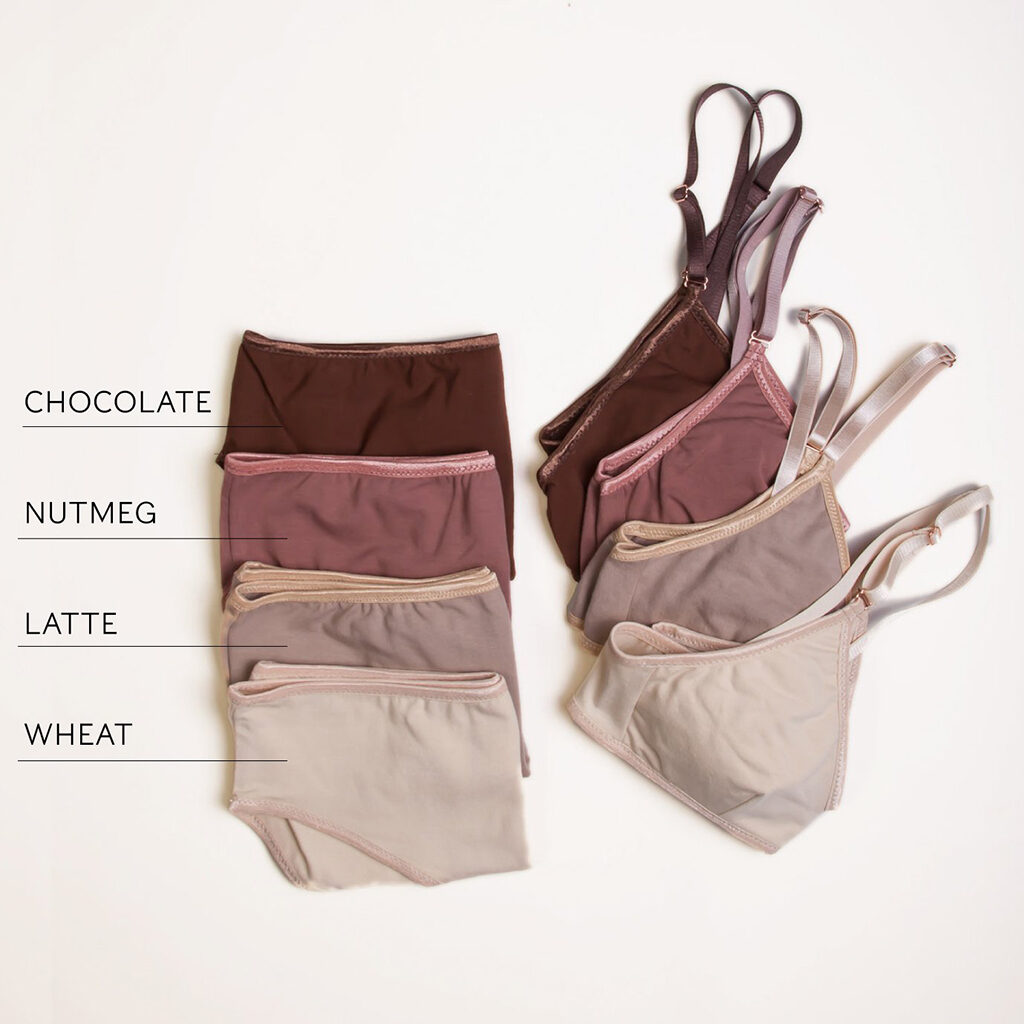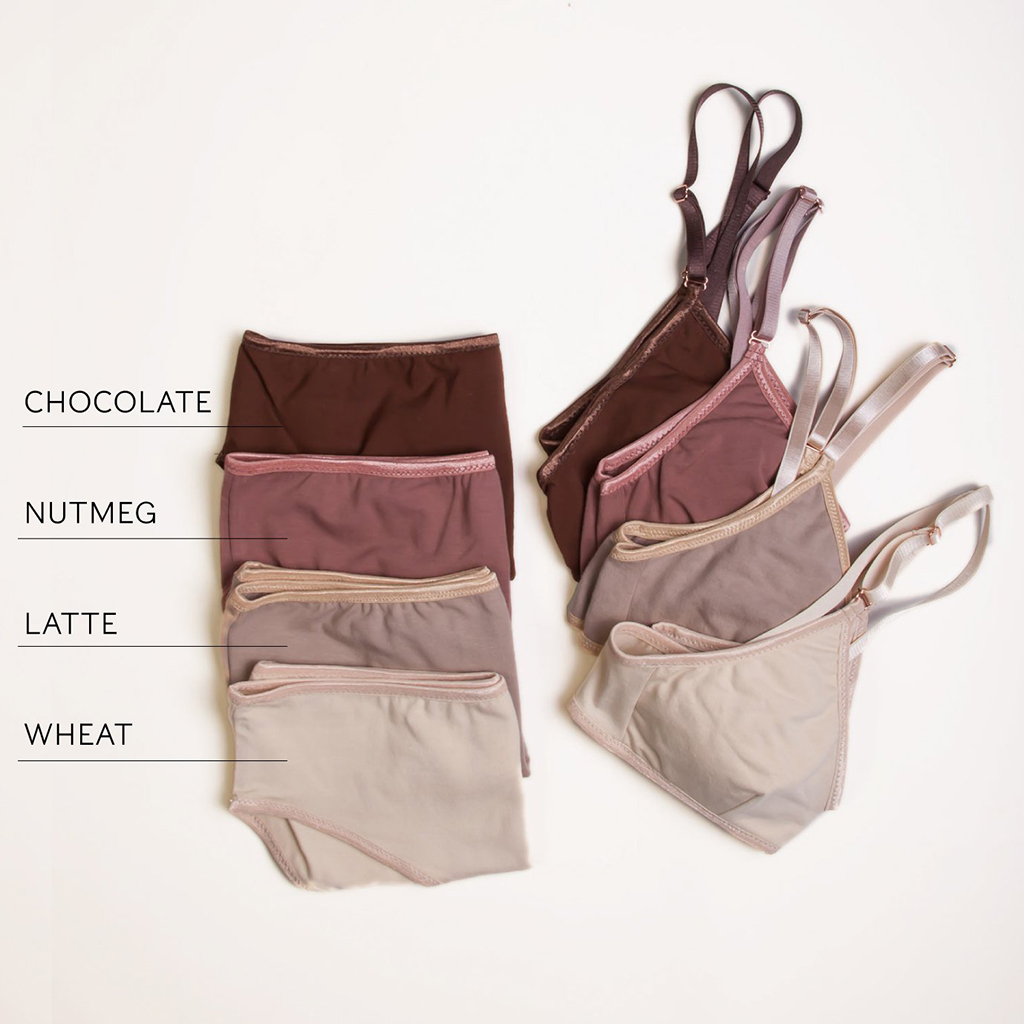 1). It's "Made in the USA." According to "Brook There," the company sources their fabric from California, then cuts and sews each piece at their home base in Massachusetts. (A big source of our global worries concerning climate change, as you know come from CO2 emissions, of which the transport sector accounts for 14% of this damage alone from just non-CO2 sources, and if you are driving a car to send these deliverables in the fashion industry that accounts for 25% of all CO2 emissions thanks to burning fossil fuels. So off the bat, this brand does it correctly by creating and producing local, as well as sourcing domestic).
2). GOTS-Certified 100% Organic Cotton. As I mentioned their fabric is "sourced" in California, what I mean by that is the entire process from milling to dyeing is done in California. You have the benefit of the doubt knowing that you are not contributing to the nasty overload of pesticide use that traditional cotton requires (being that this brand is GOTS- Certified Organic). That should help you sleep well, as we know those toxins cause cancer amongst other diseases and disorders. (Organic Cotton is also super soft which is a bonus).
3). Did I mention they REALLY watch their Carbon Emissions? Brook There goes even further by refusing a separate warehouse for inventory holding of orders, when an order comes through, they hold it at the same place they cut and sew it in, Massachusetts, instead of putting everything in plastic bags and back out on the road just for additional storage. In other words, they really cut back on transport as much as possible. Even more delightful; they take their awareness even further, with all orders arriving in recycled tissue paper and/or recycled poly-bags instead of the single-use method of plastic bags and bubble wrap.
4). Female-Owned. Need I say more? #GIRL-POWER.
Why I Love It: Such a fun colorful brand! Seriously. And they take the creation of their shades seriously as well, every single one of them stem from plant-dyes, hues from nature itself. One of my favorite things to do at Parsons in the Textile Pathway is natural dyeing (so I am being a bit biased here). They are all stunning considering this information. Hare HARA!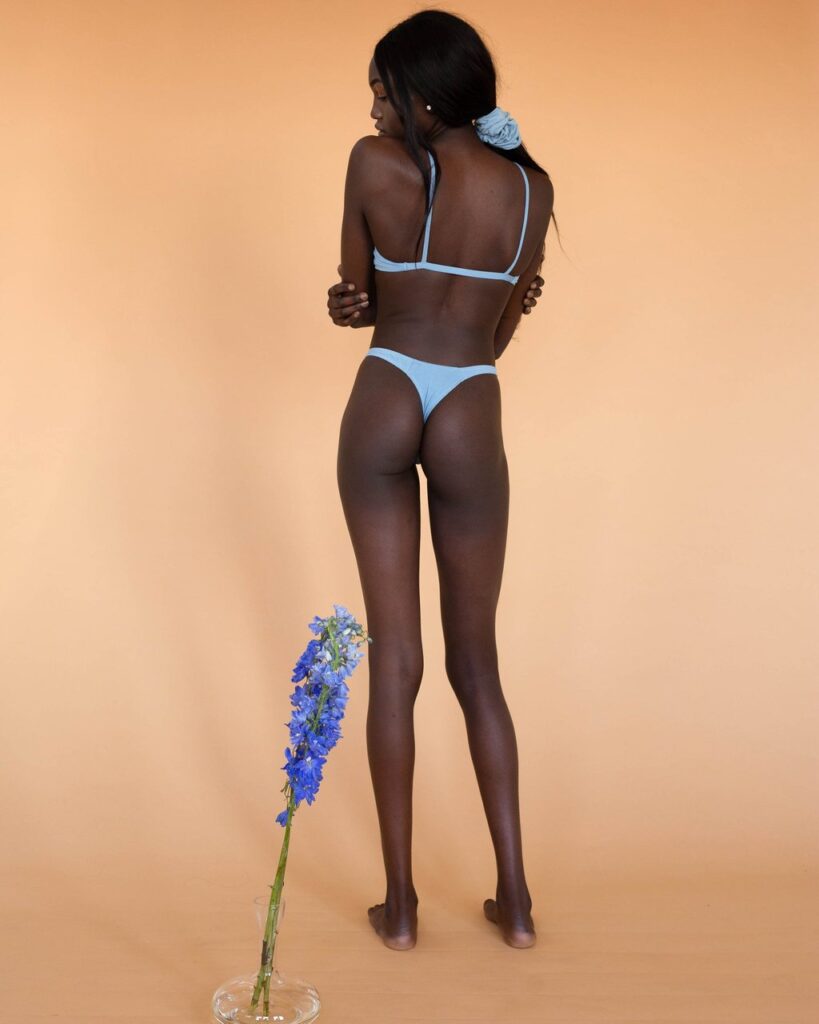 Natural Dyes People! This is sort of a big deal folks. I'm not even sure about Brook There, but Hara really takes a practice of antiquity and is bringing it back into the industrialized world. That is an inspiration of itself and a sustainable practice. Just think, the colors you wear from this brand are coming from: Turmeric, Indigo, and Madder Root… not acid, sulfur, coal tar, or petroleum like the majority of fabric dyes (see this study). Plant dyes biodegrade, prevent pollution, and don't kill animals in the process or end of it all. What more could you ask for?
BAM-BOOOOOOOOOO. We are somewhat making Brook up there look a bit old-fashioned, bamboo really is the new cotton though. It's far more efficient in more ways than one. Here's what Hara has got to say about the fiber they adopted for all their pieces. Did you finish reading all of this? Impressive right? Moving on.
They Operate Locally, Too. Just like Brook upstairs on this post, HARA claims that they dye, cut, sew, package, and ship locally except, exceeding Brook…all in one place: Melbourne, Australia. They truly care about their carbon footprint.
Committed to No Child Labour, Fair Wages, Gives Staff Frequent Fruit and Snack-Time Breaks, Partnered with the Environmental Justice Foundation, Owned by a millennial female (gives me hope!), Size inclusive (XS all the way to 5XL), I could go on and on… HARA is simply just one of those brands that if there was one step only short of perfection, it's probably them. That step short of perfection you ask….THAT THEY AREN'T MORE POPULAR THAN WHAT THEY ALREADY ARE.
Why I Love It: If you like to stay on the "cute" side of lingerie, this brand is for you. Clare Bare is the essential eco-pinup girls go-to. If you are a lover of vintage, and all things lost, found, one woman's trash is another one's treasure, hipster vibes…Clare's got your back. You'll be sporting retro 50s floral wallpaper, and psychedelic 60s tie-dyes in no time.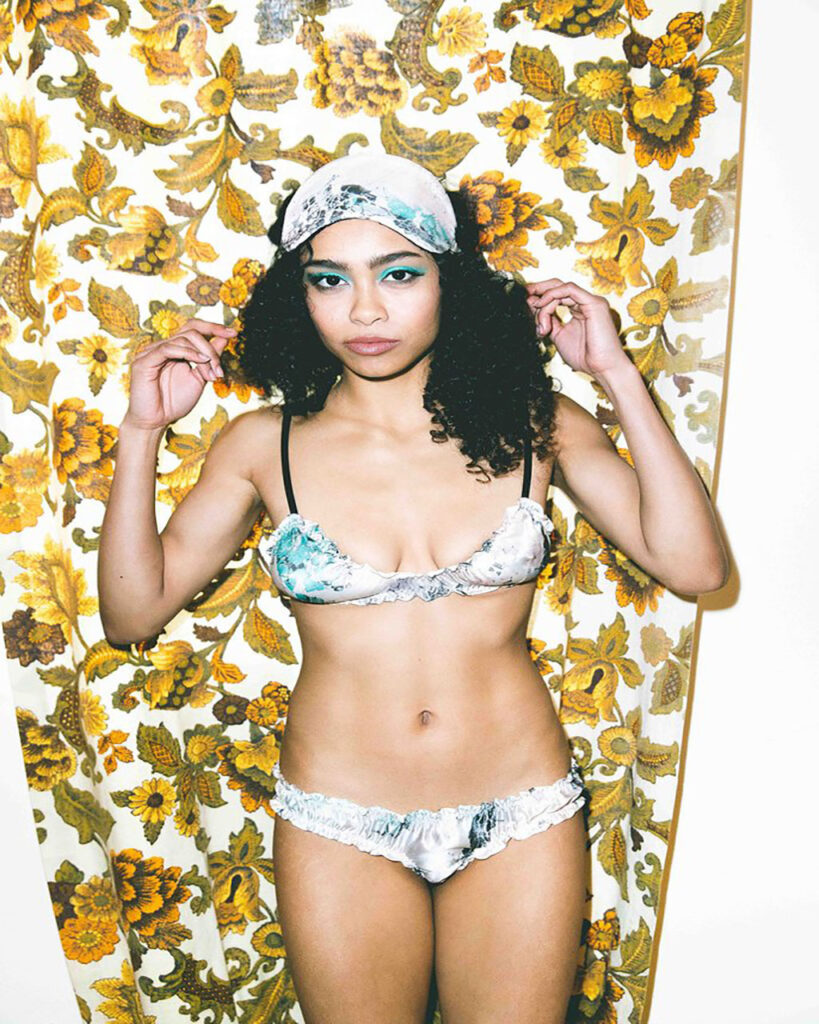 Zero-Waste Adherence. Everything about this brand espouses the idea of using up every remnant to the best of its abilities. You can see this clearly in many of Clare's strappy pieces, and in more subtle ways through her overt mention of the undergarment being pre-constructed to ensure zero textiles or very little are left over in scraps (this is a major plus considering what I mentioned about textile waste from the industry earlier in this post). Clare Bare expands this design technique to her choices in fabric, as the majority of her pieces are constructed from what we call "deadstock," material. Deadstock fabric is whatever yardage of fabric is leftover from manufacturers or designers once they have met their quota of stock, or whatever is left over if they did not have enough demand for the product and hence….a bunch of wasted fabric remains with nowhere to go but the landfill. Clare makes sure to snatch these up, and in turn meets aesthetic with sustainability using her former eye as a printmaker from Parsons School of Design to create these snazzy ensembles.
Inspired Here-Made Here Mentality. Clare Bare receives props for committing the brand to local sourcing and manufacture as well. Sourcing fabric from the desert flea markets and thrift stores around the United States, and wrapping up the entire production of her work from start to finish at her studio in Los Angeles, California.
Slow Fashion Forward. As Clare Bare's website states: "Rather than adhering to the market calendar, we design pieces whenever inspiration strikes…" This is a really brilliant way of getting people to be more sentimental towards what they own, it inspires patience in the consumer, higher quality work from the designer, and ultimately generates less waste compared to market calendar which replenishes itself with new collections each season without pause. It gives the consumer exactly what they demand, when they demand it, and does not create an excess of unnecessary surplus.
Organic Fabrics, Natural Dyes, Female-Owned, Unique Pieces. Enough said. 
Why I Love It: Ah "Only Hearts," that quaint little boutique I used to pass up in Soho over in New York. If any of these brands are like the "Apple Pie," of eco-lingerie; look no further than this sweet label. It's been around since 1978, and has been worn by the likes of: Cardi B, Hailey Beiber, Bella Hadid, Kendall Jenner, Bjork, and Kate Moss…to name a few. It's safe to say this brand is loved for its standing as pioneer in this sub-sect of the industry. You've got to give them a try. (I personally own pieces from them).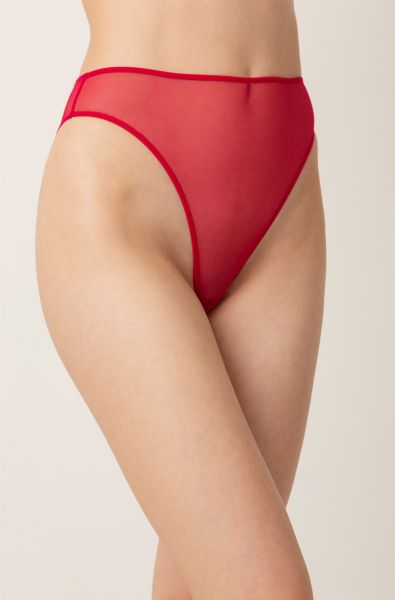 Made and Sourced Locally. They keep track of that carbon output, and probably know all of their workers personally. The brand is headquartered in New York City, and according to the website they use: "local, deadstock, organic, recycled, and certified green textiles." WIN-WIN.
Mother and Daughter Owned. Isn't that adorable?
I have personally #Tried'n'Tested and approve of this brand. Okay, I am joking about the hashtag, but in real life, (before my posts on this blog), yes I have tried and approve this brand.
They are a small business and make lingerie in small batches. What else? Hmm…their bleaches and dyes are all: GOTS (Global Organic Textile Stardard), IMO (Institute for Marketecology), and ETAD (Ecological and Toxical Association of Dyes and Organic Pigments Manufacturers) certified. Yeah. Just do it, switch your undies now.
Why I Love It: Girls, when I tell you this brand is the new Victoria's Secret. I mean it. Just the more responsible, and far more superior one *winks.* This brand took the hippie out of earth-conscious and did a better job than Stella McCartney…genius brand. It amazes me just about as much as Beyond Meat Burgers. This brand is the "Creme de la Creme" and hence why I have saved the best, for last. There is not one piece they sell which will have you facepalming. It is sophisticated, it is sexy, it's all you could ask for.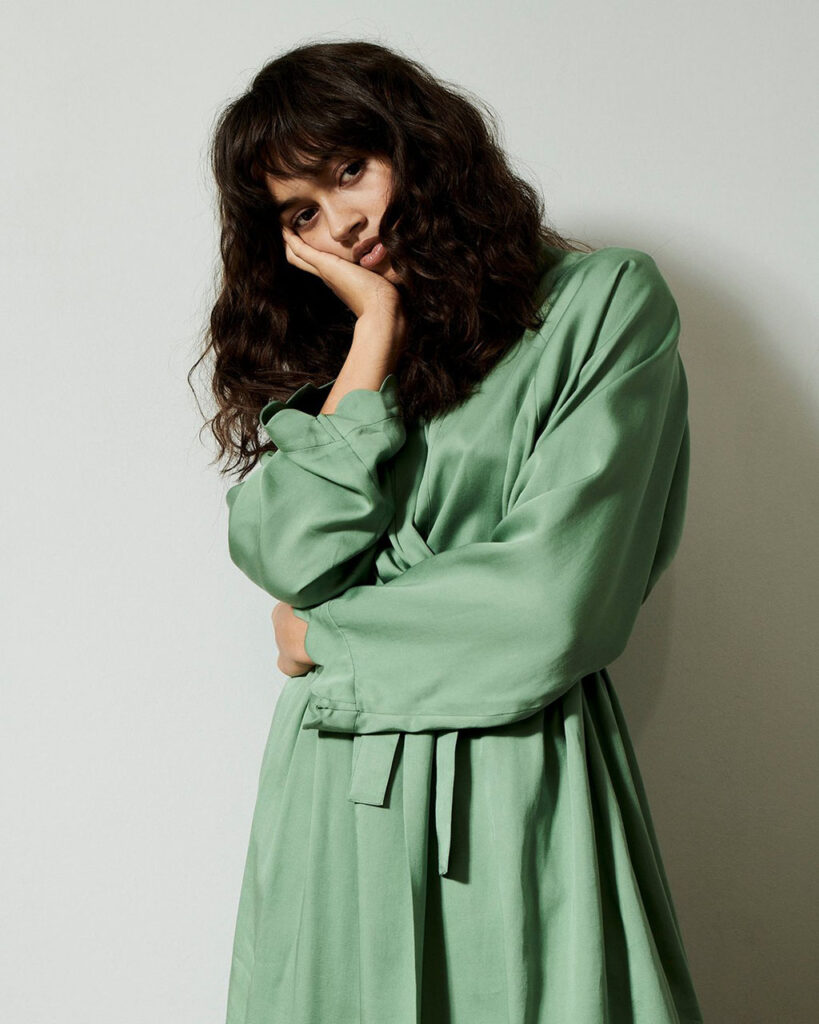 Did I tell you they Ooze that "Victoria's Secret Level Glamour?" NEXT.
Unsurprisingly Sustainable AND Surprisingly Innovative Material Choices. Did you know this brand decided to use banana fibers? Recycled Plastic Bottles? Milk Fiber from soured milk? To make some of their garments? So cool. All of their synthetic materials are recycled, (so all of their nylon, polyester, elastane, etc); and they are Oeko-Tex Certified as well as GRS-Certified. They always make sure to avoid mixed fiber content as much as possible so that your garment is easier to biodegrade back into the earth when you have had enough of wearing it. Just wonderful, honestly.
Ethical Treatment of Workers. According to their website, Underprotection requires their suppliers have WRAP (Worldwide Responsible Accredited Production), Sedex, GOTS and BSCI (Business Social Compliance Initiative) certifications. They regularly meet with their manufacturers, and their manufacturers in-turn visit them.
They Put Effort In to Lower Carbon Emissions. Underprotection notes that as an international company they ship and conduct most of their travel by ship or train in such cases, and do well with their shipping and handling in that you can be comforted in knowing all of your packaging your order came in is either biodegradable, recyclable, or from recycled components.
So there are my introductions to five lovely and deserving brands…now go check them out and get shopping! You will feel (and sleep) a lot better with your spending habits knowing you purchased from a sustainable brand.
Do you have what it takes to write about fashion?
Apply now and get published on RGNN!