So bright I blind myself | Caroline l Chappell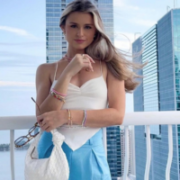 Caroline Chappell
East Carolina University | USA
Caroline Chappell is a student at East Carolina University.
Us short girls in fashion know our Angles to look tall like our favorite models. In this picture Charoline looks over 6 feet tall in theses killing tan wide legs trousers and orange cropped top. This was colour blocked with a blue purse and blue sun glasses. This is a look all girls should try.
Get Caroline's Look!!