Welcome to The Director's Cut, an interactive column featuring fashion, beauty and career advice from RGNN Director and Founder, @isabelevabohrer.
As mentioned in my intro to our Fashion Week Career Advice guides, there are three main ways for university students to attend fashion weeks: as a volunteer, an intern or as a content creator. And I get it, not everyone is Alix Earle, and the doors will not magically open to you. That said, here are some tips if you want to be considered for a show as a college content creator:
Tip #1: PR contacts are everything.
NYFW, for example, does not invite media. All media credentials are handled directly by each designer's PR team. For NYFW, you'll need to go online to https://nyfw.com/press/ and find the press contact for each individual show. It is worth noting here that not all city's fashion weeks operate in the same way. In Madrid, for example, this is different: the general organizer, IFEMA, will extend invites to all on-site shows at the IFEMA fairgrounds. You'll find a separate application for content creators requiring social media account(s), number of followers, philosophy, objective, AND a pdf proposal of the coverage you want to create.
Tip #2: A little note on press vs. creators.
Press attends fashion week. So do content creators. But press can also be creating content. RGNN Alum Poppy Shen sheds some light on this, she now works at Yahoo:
The way I attended NYFW was through my work/media [Video Producer at Yahoo!]. I attended all the shows as press – I got PR emails two years ago to cover a @flyingsolonyc show for Yahoo and I did. After that, I guess my email was in NYFW system and I started getting invite emails to a lot of shows. I would either attend as press to create content or as a guest to just enjoy the show.

– RGNN Alum Poppy Shen, now Video Producer at Yahoo!
Tip #3: Use LinkedIn or Google to find the PR contact.
So as you see, it's important to get your email in the system. Find the press agency representing a specific brand, and then find the name of the person on LinkedIn who handles the press (e.g. Chanel + Press). You can also search online for the generic email format a company uses, e.g. if you find another email firstname.lastname@chanel.com (yes, this is the actual format for emails at Chanel, you are welcome!). Chances are your PR contact's email will follow that format. Prepare a brief email pitch with your media kit, statistics, and work samples. Show the brands what you can do for them.
Tip #4: Use Instagram to stay on top of PR contacts.
This is a pro tip: follow your fave influencers (I guess you are doing that anyways). In their stories, when they are gifted something, they will sometimes tag the PR agency and the specific person who gifted them the item. Or when they are invited to a show or an event, they will post a photo of their invite, sometimes signed by a specific person. Follow that PR contact, and you will know who to reach out to!
Tip #5: Build relationships with brands and their PR contacts all year.
This is essential if you want to be top of mind when getting invited. Haven't even gotten started as a creator? Then start NOW. Think of things from the brand's perspective – why should they invite you? Is their brand relevant to your audience? That means wearing the brand's items, tagging them on social, getting on their radar, again, all year around and not just two days before the show.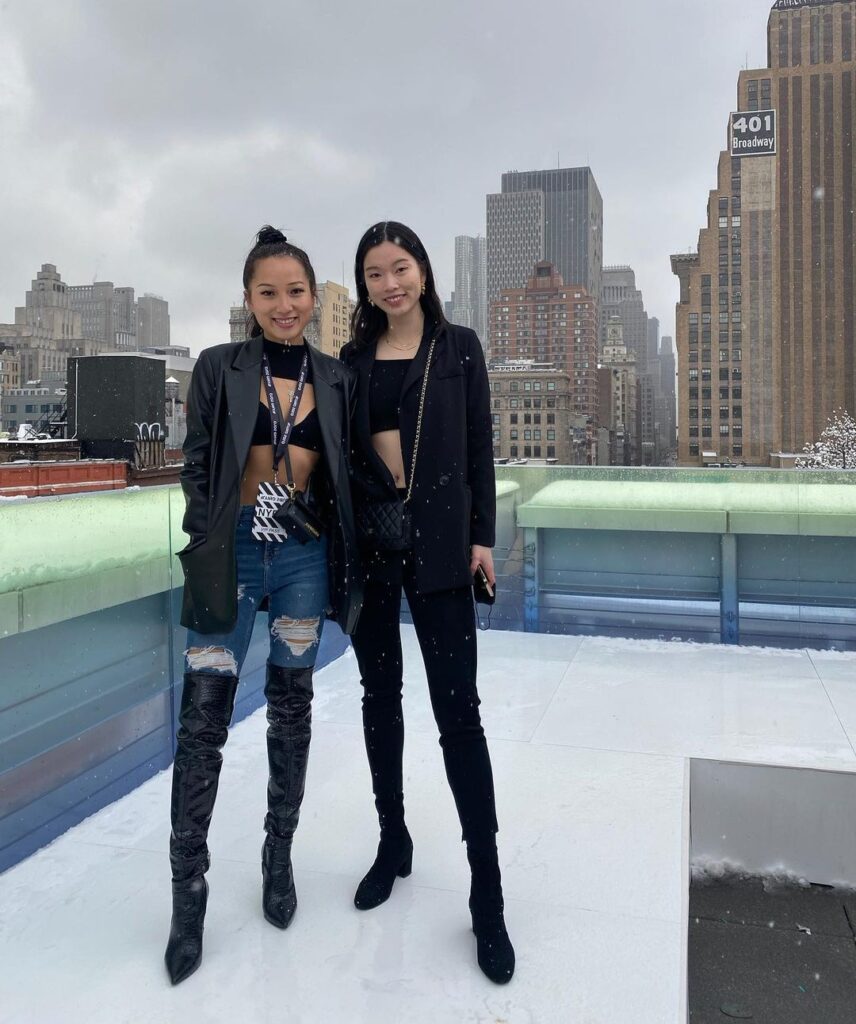 Tip #6: Fashion week includes beauty, too.
Marianna Hewitt mentioned a great tip in her podcast, Life with Marianna: if you cannot afford, say, a Dior bag, get on the brand's radar by buying their beauty products instead. I specifically recommend Marianna's episode on "NYFW – Everything You Need to Know" if you are interested in attending NYFW. In fact, most fashion weeks, or some cases individual shows, have a beauty sponsor. If NARS is sponsoring the Erdem show in London, for example, get on the beauty brands' radar, they will also have invites to extend.
Tip #7: Go small.
Spanish influencer Alexandra Pereira, @alexandrapereira with 2.3 million followers on Instagram, has been very upfront about the fact that, especially at the beginning, she did not get invited to her dream shows. A lot of tears and sweat went into the process. If you want in at New York Fashion Week, go for the less well-known brands first.
I'd say for bigger brands, it's a lot harder to get on the guest list, but easier to go as press. I'd reach out and say hey, I can film the show or get backstage content for our TikTok, and they'd normally say yes but we [at Yahoo] have a large following.

– RGNN Alum Poppy Shen, now Video Producer at Yahoo!
Or if you are traveling, go for the less famous fashion weeks (there are so many – Berlin, Amsterdam, Copenhagen, Shanghai, Mumbai, Tel Aviv, Dubai, Sydney, and more). This is a great way to build your portfolio, start networking (and see if fashion week is actually as glamorous as you think – it is actually a lot of hard work!).
Questions or comments? Follow me on IG @isabelevabohrer and say hi! See you soon!