Why Supermodels Get Away with Wearing Sweatpants (and How You Can, Too!)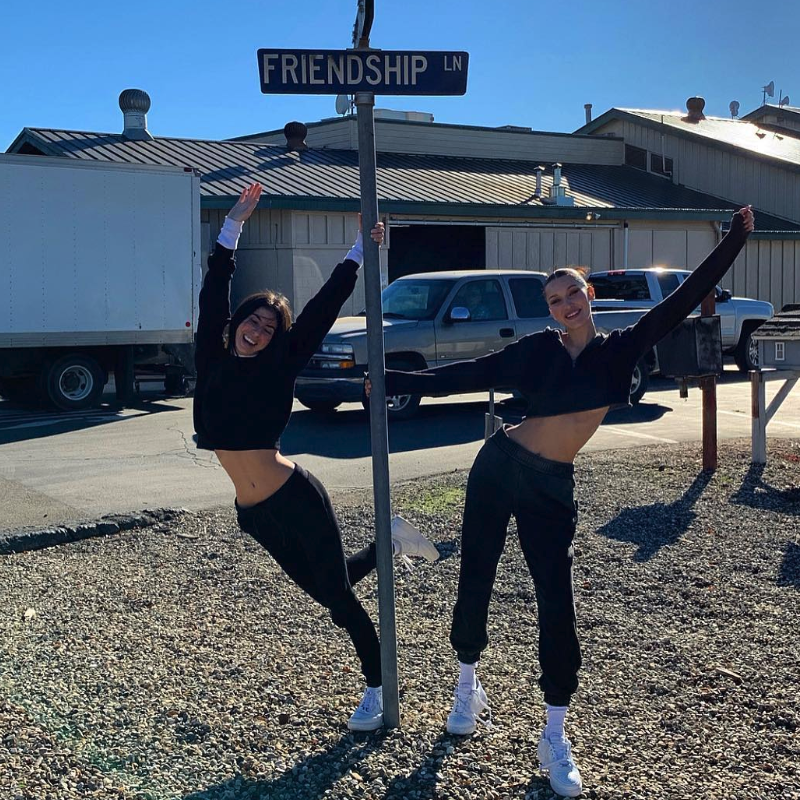 Bella Hadid wearing sweatpants | via @bellahadid Instagram
https://www.instagram.com/p/B6vmdyFn-bW/
https://www.instagram.com/p/B6_y0Odn0Zw/
https://www.instagram.com/p/BwIT3Jsld_Z/
https://www.instagram.com/p/B7O7s6iJWLm/
https://www.instagram.com/p/B2MrRMelpAF/
Once something worn to lounge around in or workout in, sweatpants have become much more universal, multi-purposeful and in demand, and celebrities like Kylie Jenner and Karlie Kloss are all the proof we need to wear our favorite lounge pants every day.
As we get busier, and our schedules become more demanding, it gets harder to juggle everything – work, study, social lives, gym time… our hectic lives require stylish yet comfortable and practical outfits which can be worn for any occasion, and thanks to the athleisure trend this is absolutely possible!
Here are some of the reasons why supermodels can wear sweatpants outside the comfort of their own home and still look amazing and how you can too:
They take care of their edges and complete the look
Matching shoes to an outfit is key to all looks, not least the casual look. Since sweatpants are often cropped at three-quarter length, this gives the perfect opportunity to dress them up. From ballet flats to wedge sneakers to stilettos – sweatpants can look fierce with the right footwear. Of course, taking care of edges also includes hair, makeup, skincare and accessories like bags.
It's all about the hair
Supermodels polish up their look with a bold hair-do – the styling of their hair makes the difference and can turn the sweatpants look from 'extremely casual' to 'dressed-up and ready to go out'.
They're in great shape
Celebs have cracked the code – rather than choosing large oversized joggers, they opt for fitted sweatpants with a tailored look. A slim fit and tapered leg are key to looking good in joggers – they'll still look casual but will also compliment your curves. A win-win!
They're pro's at the candid look
Supermodels have the power and confidence to break long-standing fashion rules and make their own. Once recognized for their over-the-top poses, supermodels have since become accustomed to the 'candid' shot. A pose that champions the natural look, looking like you've been caught off-guard is chic and cool and looks great when paired with the sweatpants.
They experiment with colors, patterns and textures
While the monochromatic look is chic and trendy, and fleece sweatpants the norm, bright colors and funky patterns can completely transform your look. Supermodels are often seen wearing faux leather, satin and suede joggers in a range of colors and styles.
Sure, supermodels can dress up sweatpants – but you can too if you follow these guidelines
1. Find a hairstyle and color that suits you – a good hairdo can go a long way! Getting a chop and opting for a change of color does wonders for the self-esteem and will look good with your new look.
2. Hit the gym – of course it'll get you toned and strong but exercise also makes you happier and more confident (don't just take our word for it, there are experts and research out there to back it up!).
3. Get enough sleep – having enough down-time is important for so many reasons. You can focus better after a good rest; it helps the body repair and recover and it can improve your skin and your mood!
4. DIY your nails at home on a Sunday evening – polished nails can make everything look just that little bit better. Spend time taking care of your nails and they'll complete any outfit you try on.
5. and finally… find clothes that suit you – if you don't like leggings or running tights, don't get them for the sake of fashion. Wear what you feel most comfortable in!
Do you have what it takes to write about fashion?
Apply now and get published on RGNN!