What's in My College Bag?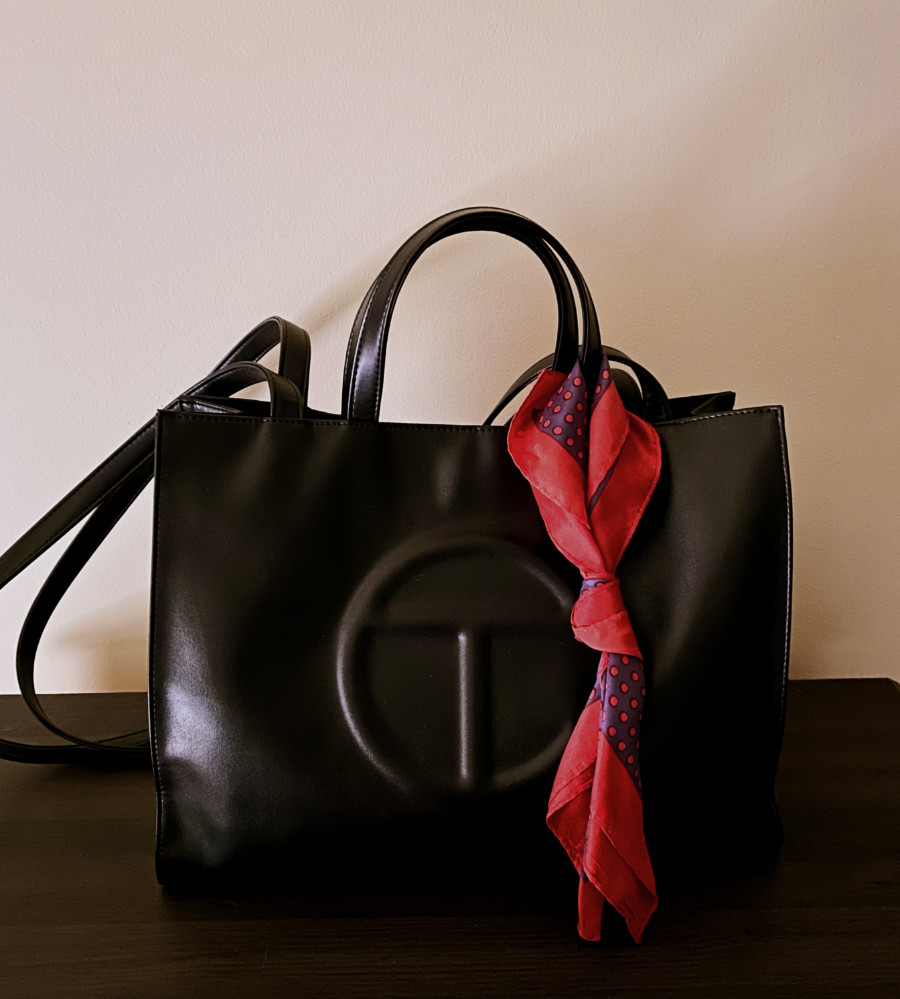 My everyday bag | Raina Von Zerneck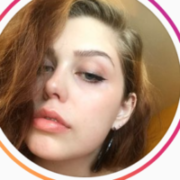 Raina von Zerneck
SUNY at Albany | USA
Raina is a 4th year undergraduate student studying Psych and…
Now that many students are taking their courses online, one would think the need for a college bag would be obsolete. However, you never know when you will need to be on campus the next time, and it's always good to have a quality bag and supplies just encase. Personally, I work on campus as well as utilize different studying spaces on campus to do my coursework. Here is my go-to everyday bag, and the supplies I never leave the house without!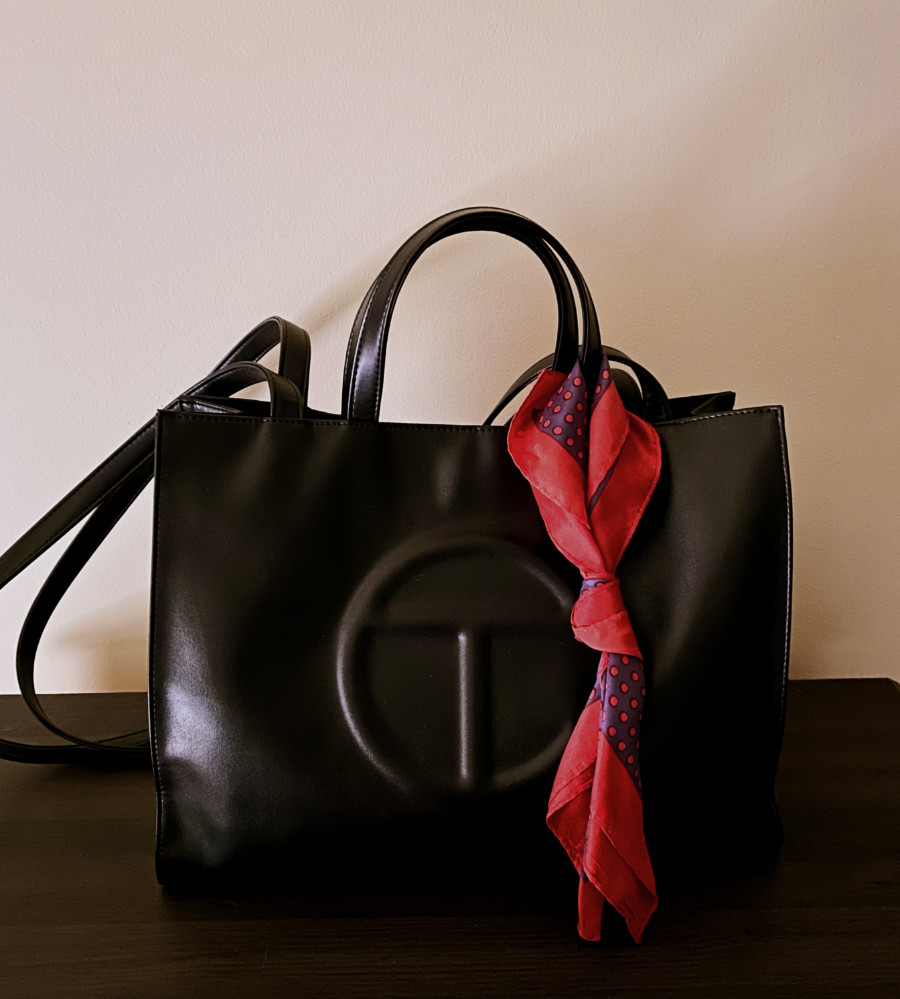 Firstly, my college bag this year is by Telfar, a unisex, Black owned brand. The founder and designer, Telfar Clemens, is originally from Queens, NY which also happens to be my hometown. After a rise in popularity over the summer, Telfar bags are now only being sold through limited release. There are some bags available on re-selling websites, but if you are interested in purchasing one, I encourage you to wait until Telfar's release dates. Since Telfar is a Black owned brand, it's better to buy directly from the source if you truly want to support the brand and the designer. Re-selling is a more convenient means, but it's definitely more altruistic to be patient and directly support a Black owned business – especially since many re-sellers only care about profits rather than the meaning and importance behind they brands they re-sell.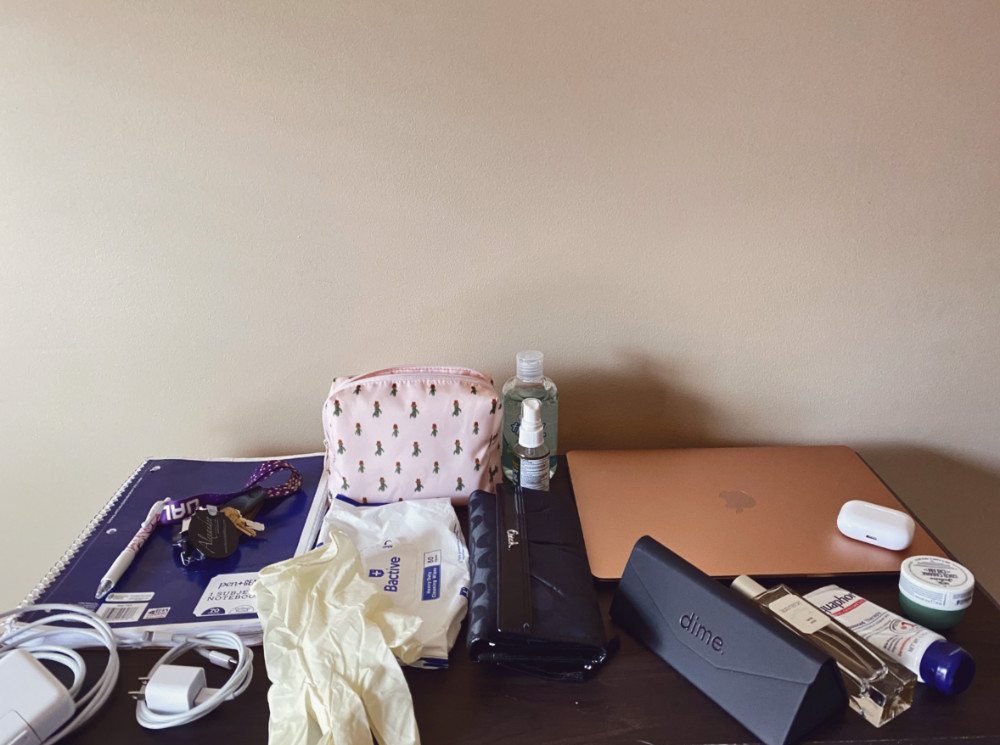 My bag is in the medium size, so it's big enough to hold my laptop and all the items I need on a typical day without being too big. Personally, I like medium bags since they are easiest to travel with and I'm always on the go. The scarf on my bag was a gift from my friend who purchased it from a vintage shop, and it looks so lovely paired with my bag! Check out the items I typically keep in my bag for daily life:
At least 2 hand sanitizers: I always carry at least two hand sanitizers with me so I can clean my hands at my convenience. Washing your hands is the better alternative, but in situations where you don't have access to a bathroom, sanitizer is imperative to prevent the spread of germs.
Antibacterial wipes: For chairs, tables, and any surfaces I will be using for an extended period of time.
Disposable plastic gloves: I normally don't wear plastic gloves outside since I always have access to either hand sanitizer or a bathroom, but I bring a pair of gloves with me just encase. I don't want to contribute to plastic waste, which is why I don't typically wear them, but instead carry a pair with me if I ever end up in a situation where I would need them.
Blue light blocking glasses: Since most of us now have to sit on our phones and computers for a much longer period than pre-pandemic times, it's important to protect your eyes. I already have bad vision, and excessive use of my laptop and phone make it worse, even if I wear my prescription glasses. This prompted me to purchase a pair of blue light blocking glasses that would protect my eyes and prevent any further deterioration of my vision. The pair I have are from dime. in the style 016, and can be purchased here for $30.00.
My Apple MacBook Air: This past summer, I decided to invest in purchasing a MacBook since Apple laptops and computers are most compatible with the software I need to take my courses online. Previously, I owned a Lenovo Chromebook, which I loved, because it is relatively inexpensive compared to other laptop brands. However, many of the applications and software I need for school are not compatible with the Google Chrome system. Luckily, Apple does give discounts on all their laptops for college students and faculty. I even got a pair of discounted AirPods Pro with my MacBook Air purchase.
My Apple AirPods Pro: Another accessory that always travel with me. A pair of headphones are especially beneficial if you are studying in the library, or a café, and need to listen to material without disturbing the other students around you.
Electronic accessories: My trusty laptop and phone charger come with me everywhere I go!
A notebook: Even though I usually take notes on my laptop, I always carry a notebook with me encase I need to write something down or make note of something I need to re-check at a later time. Personally, I like the feeling of handwriting notes best, but sometimes it isn't the most practical option, especially if I'm rushing to take notes along with a video lecture. However, having a notebook with me that I can doodle in, or write random notes for myself actually helps my focus and allows me to be more productive in my study sessions.
My house keys: A basic necessity!
A mini pouch: In this mini pouch, I keep some more basic necessities like perfume, lip balm, and hand cream. Now that winter is approaching, and I live in upstate NY, lip balm and hand cream are a must while outside in the cold, dry air.
My Coach wallet: As time goes on, more and more shops are adding E-pay options to their registers, but carrying a wallet is still a necessity. I not only carry my debit card, but my university ID which gives me access to certain buildings on campus and even serves as my bus pass. I got my wallet secondhand through the online thrift store, ThredUp. The exact style I have is no longer available, but you can get a similar style on ThredUp for $43.99.
I hope this was informative and maybe gave you some inspiration on what to keep in your bag! Be sure to share your everyday purse or bag with us @rooster_gnn!
Do you have what it takes to write about fashion?
Apply now and get published on RGNN!