Dry Hair: College Bloggers Tell Us How To Cope
I always land on my feet, bounce back game clean & neat ✨ | Photo by @curlsgonwildx on Instagram
Whether your hair is pin straight or extremely curly, one thing we can all agree on is that as the season changes, we need to adjust our hair routine to retain moisture in the cold weather. This means deep conditioners, protective styles, oils and following the LOC method (also known as "Leave-in Oil Cream"), in order to ensure our hair survives this cold weather.
Yes, the time is here when hair routines must change, but don't panic because three beauty gurus are ready to spill the beans and give you an inside look into what they do to keep their hair extra moisturized. Also, these three women have different hair types—straight/wavy, curly and kinky—so make sure to read on to find the style that best matches your hair type.
Check them out on Instagram before you read the interview, so as to see what their hair is really like.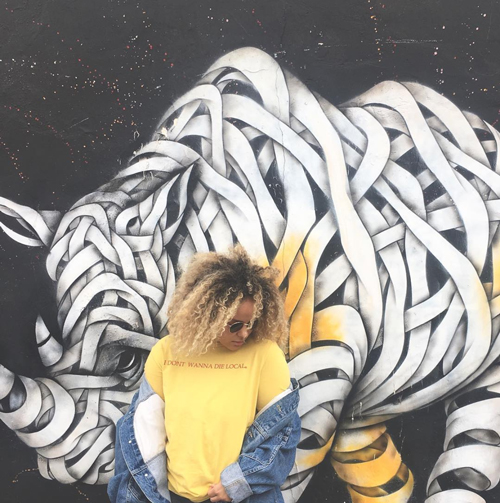 What is your current hair routine?
Alexa: I currently have my hair dyed mostly blonde, so I'm washing it with purple shampoo and conditioner every other day. After I hop out of the shower, I add a few pumps of Bumble and Bumble's Invisible Hairdresser's Oil, let it air dry, and I'm ready to go!
Alanta:
Morning: spray bottle of coconut oil and water, add curl cream, style and go.
Night: spray bottle of coconut oil and water and pineapple
Wash day: Wash and goes have been my BFF since starting college.
Venesa: My current hair routine requires a lot of leave-in conditioner and gel. I don't do too much to my hair because I'm always on the go but those two products are a must.
Now that the season is getting colder and our hair is getting drier, what changes do you make during this time of year?
Alexa: Although I already don't apply much heat to my hair, I make it a priority to completely avoid using any heat-styling tools during these colder seasons. I also try to use hair masks about once or twice a week to keep it hydrated and frizz-free.
Alanta: Coconut oil hair mask! I literally sometimes spend a whole day, usually Sunday, with coconut oil in my hair. The next day when I wash it out it is amazing.
If I don't have time to do proper deep conditions I make sure I keep some kind of oil around to help my hair out on its drier days. I find myself doing a lot more protective hairstyles too so I lock in what moisture I do have.
Venesa: I wash my hair every two to three days instead of once a week and I do more protective styles such as twist and braids.
What products do you use at this time? Are there specific products or ingredients you look for?
Alexa: My current conditioner is Clairol's Shimmer Lights Conditioner for "Blonde," and I use Bumble and bumble's Invisible Hairdresser's Oil as a serum. Coconut oil is my number one go-to for hair masks because of how shiny and soft it leaves my hair.
Alanta:
Shampoo: I usually try to stay away from products that have sulfate or do not have water as the first ingredient, but since my hair is ash blonde, my stylist won't let me not use purple shampoo from time to time.
Conditioner: Same as for my shampoo, I use Moisturizing Rinse from Macadamia Hair, for example.
Styler: I usually do the LOC (liquid, oil, cream) method and I love it. I go back and forth with the oil I use, right now it's argan oil. The cream changes here and there too, I love mixed chicks leave-in conditioner.
Venesa: I use Mielle Organics hair products and Ecostyler gel. When shopping for products I always look for products that will keep my hair rejuvenated and shiny.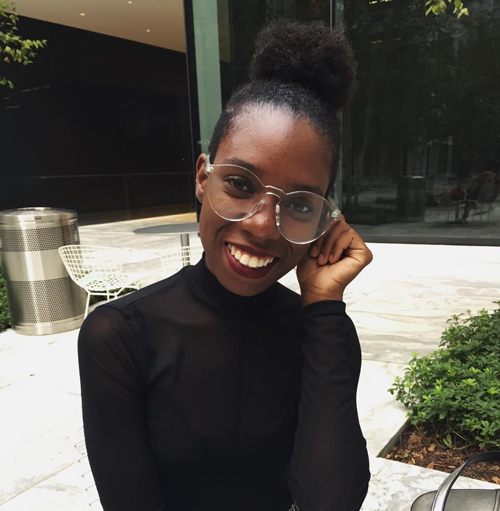 Is there anything specific you do during the fall and winter for your hair, such as DIYs or hair masks?
Alexa: As previously mentioned, I use coconut oil as a hair mask–it seriously works wonders!
Alanta: I just up the amount I take care of my hair. LOTS of deep conditions. During the fall/ winter my wash days are more planned.
Hot oil treatment
Wash and detangle
Protein treatment — usually with an egg
Homemade deep conditioner– (avocado, coconut oil, whatever oil I am using, and conditioner)
Venesa: I do a lot of deep conditioners in the fall and winter. I love doing a hair mask as well but I usually just mix products I have at home such as raw coconut oil, avocado, and aloe vera, which always make my hair soft and detangled.
What is one thing everyone should do for their hair during this season?
Alexa: Definitely don't forget to keep it hydrated! Whether it's with hair masks or special serums–whatever works for your hair–hydration is key.
Alanta: A diffuser! It saved my "wash and goes" in the winter so I don't leave the house with wet hair.
Venesa: One thing everyone should do is deep condition their hair to keep it as moisturized as possible.
Anything else people should know in terms of moisturizing your hair?
Alexa: Nothing quite specific, but simply to always make moisture and hydration a priority for your gorgeous locks!
Alanta: Oil is everything! When you wake up, OIL! Go to bed…OIL! Get out of the shower…OIL!
Venesa: Coconut oil is a lifesaver, so if you ever run out of conditioner, this oil can get you through the day and you don't even need to use a lot for it to work effectively all over.
Editor's note. Interview responses have been slightly edited for readibility, the content has not been altered.
Updated: January 15, 2020.
Do you have what it takes to write about beauty?
Apply now and get published on RGNN!