10 Things I Learned from Rachel Zoe's Book Style A to Zoe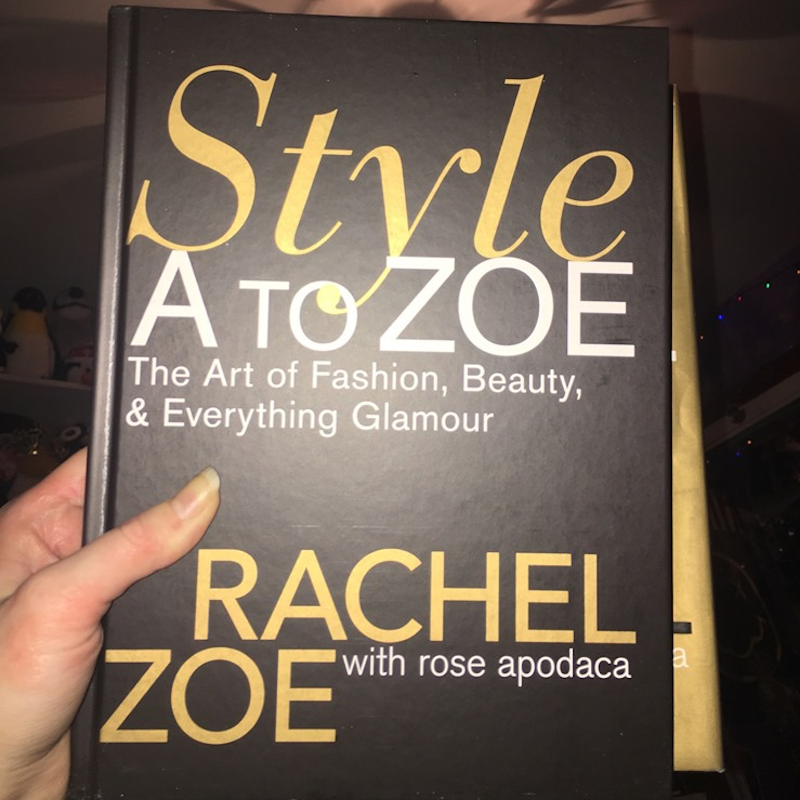 Book cover | Siobhan Divers
https://www.instagram.com/p/B8MwOOxA4kd/
https://www.instagram.com/p/B8Z5WDTgQfv/
Style A to Zoe: The Art of Fashion, Beauty and Everything Glamour, is a book on all things style written by Rachel Zoe, one of Hollywood's most sought after stylists.
A woman who has had a profound impact on the fashion world – Rachel has dressed an array of celebrities including Jennifer Garner and Lindsay Lohan. Her book is a welcome style manual with tips on accessorizing, dressing for work and what to wear on your days off.
Though Rachel's life and book ultimately revolve around fashion and style, there are also some interesting life lessons and great general advice to be taken from her book.
Here's what I learned:
1. "Be yourself. Don't copy, but do draw inspiration. Interpret"
Rachel says the celebrities she works with take inspiration from other icons. Lindsey Lohan channeled Brigitte Bardot and Marilyn Monroe as young Norma Jean. Misha Barton was influenced by Twiggy and Peggy Lipton. While these celebrities drew inspiration from past icons, each had their own style.
2. "A detail never to be overlooked is comfort."
As Rachel points our "comfort nurtures confidence… regardless of what the latest fashion trend is, if it doesn't look good on you – and doesn't empower you in a way that makes you feel great – then take a pass."
3. "Any reason to dress up is absolutely reasonable."
While of course it's optional and no-one needs to get their hair or make-up done to look good, Rachel notes that it 'does wonders for your mood and mind.'
4. "Buy something because you love it, you need it and you will use it."
A fine point well made, as purchasing things for the sake of it isn't ideal for a number of reasons, not least for the environment and in contributing to the fast fashion industry.
5. "Just because it's got a label doesn't mean it's good."
Echoing point number four – labels aren't the be-all and end-all of fashion. If you like something and will wear it, label or not, that's the reason to spend your hard-earned cash.
6. "Skin is your best asset."
Something which shouldn't be overlooked, a good skincare routine is so important. Rachel recommends purchasing skincare products over foundation and drinking water- especially before, after and when applying makeup.
7. "A scent isn't going to smell the same in thin air or on a tester card as it does once it hits your skin."
Rachel's recommendations are: spritz each wrist (don't rub them together as this crushes the scent), and then walk away – some scents take hours to reveal themselves. And while its common to just spray your neck and wrist, Rachel notes that since scents rise, we should be spraying our ankles and behind the knees too!
8. "Loofah skin. Along with shampooing, this should become part of your bathing ritual."
This simple task which most of us probably don't do softens skin and opens pores allowing for better waxing and it also gets rid of environmental toxins – so use your loofah!
9. Sometimes "less is more."
In style and in design, don't feel like you have to over-accessorize yourself, your living or working spaces. Allow for some room to breathe and you'll enjoy and a de-cluttered lifestyle.
10. And "don't forget to inject a little fun."
It's just not worth it if you're not having fun – experiment and see what works for you!
A true driving force behind some of the most recognized and appreciated fashion trends, Rachel's book offers an insight into the lives and fashion routines of style icons. By guiding us through a range of topics, from personalizing your look to developing a style and mastering the red carpet moments in your own life, Zoe proves she's the go-to person for all things fashion.
You can find Style A to Zoe: The Art of Fashion Beauty and Everything Glamour available on Amazon.com here.
Do you have what it takes to write about fashion?
Apply now and get published on RGNN!