5 Fashion Trends I Discovered Abroad and Then Saw in the United States YEARS Later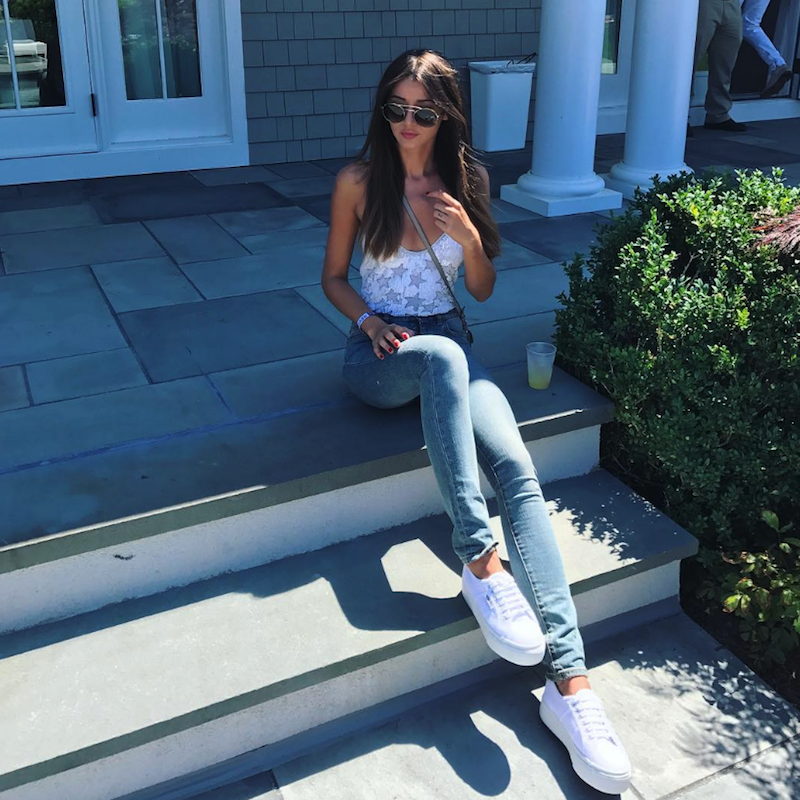 Eleanor Calder wearing platform sneakers | via @ eleanorj92 Instagram
I'd never been to Europe before studying abroad in Spain, so determining what to pack was an unbelievably difficult task. What do they WEAR? Some would say to avoid sneakers at all costs ("It screams American!'') while others told me to nix the athleticwear ("No sweatpants in public") and bring a collection of scarves.
I managed to piece together my best looks, but Google was no match for the lesson in fashion I was about to receive on the streets of Granada; the whole city seemed to pulsate on the same aesthetic energy. By the end of my semester I'd adopted a number of Spanish trends and was ready to carry this new chic version of myself back to the states. The only thing I hadn't anticipated was those trends following me across the ocean… Sometimes it took months, sometimes years, but eventually the campus would catch up to my secret. I encountered this pattern on numerous occasions after returning to the U.S. from abroad. Let's look at five of the most popular trends.
1. Macklemore hair (the undercut)
Okay, this was a biggie. "Thrift Shop" topped the charts a few years before I moved to Spain, which catapulted Macklemore and his unique hairstyle to the forefront of the internet. Although the rapper is a Seattle native, I witnessed an astounding amount of Spanish teenagers rocking his twist on the classic undercut before I noticed any American boys follow suit. You know the look: closely shaved sides with two to three inches of hair grown and styled on the top. Nowadays the shape has become less severe, but it's definitely made an impression on both continents.
2. Adidas
For all the times I was told to avoid bringing sneakers abroad, I was dumbfounded by the number of Parisian women wearing Adidas—specifically Stan Smiths and Superstars. The shoes were absolutely everywhere, and worn with almost everything. They were so popular that imitation fakes were frequently sold on the streets (I know because I made the mistake of buying some). Once I returned to the U.S. for my final year, the cycle didn't waste any time. Adidas Superstars seemed to be the shoe of the semester.
3. Platform sneakers
While we're on the topic of shoes, let's talk about one of my favorite trends: platform sneakers. I caught onto this in Paris as well, but didn't cave until London's Topshop presented me with a pair I couldn't resist. This one took some time to make its way over to the states; I received more than a few comments about the height while wearing these out for the first time a few years ago, but now they're definitely a campus staple.
4. Cuffed skinny jeans
Skinny jeans saw a revival within the American male population during the end of the '00s, but they were confined within the limits of counterculture and the alternative music scene. During my time living in Spain I noticed that this trend wasn't just a statement piece; it was a staple for Spanish youths of both genders. The jeans didn't stop at skinny either; they also revealed the "mankle," or "male ankle." Yes, that's right. All across Madrid, London, Paris and Munich, men's jeans had become cropped or cuffed to just above the ankle. The trend has finally drifted to America in more recent years, but is still less common than what I witnessed while abroad.
5. Short shorts/swim trunks
A final style that took YEARS to make its way to the U.S. would be short shorts and short swim trunks for men. Growing up, American boys wouldn't be caught dead wearing even an inch of fabric above the knee; "shorts" were essentially "shorter" pants. I was astonished to encounter such brazen disregard for this 'norm' once I encountered European men. Their shorts sat more than a few inches above the knee! What's more, they fit snugly! Quite a contrast to the baggy, saggy cargo look so commonly worn in the states. It was by the end of my college career that I finally noticed American boys start to show a little more leg. Shorts may still not be as high I've seen abroad, but each summer I'm reminded of our progress!
Do you have what it takes to write about fashion?
Apply now and get published on RGNN!