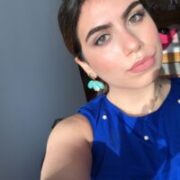 Haya Jadayel
American University of Beirut | Lebanon
Haya Jadayel is a student at the American University of…
We have the DL on how college students from all around the world get ready. If you have GRWM routine to share, apply now, and get published on RGNN.org!
I love glam looks, and while staying home during quarantine, I took advantage of some extra free time to practice this glam makeup look. If you have green eyes like mine, those purple tones are going to make them pop. Moreover, it's not your classic night glam, i.e. a dark smokey eye with a red lip.
Let's turn things up!
Get This Look:
Have a GRWM routine you wanna share? Apply now and get published on RGNN.org!