Beginner's Guide to the E-Girl Look #OOTD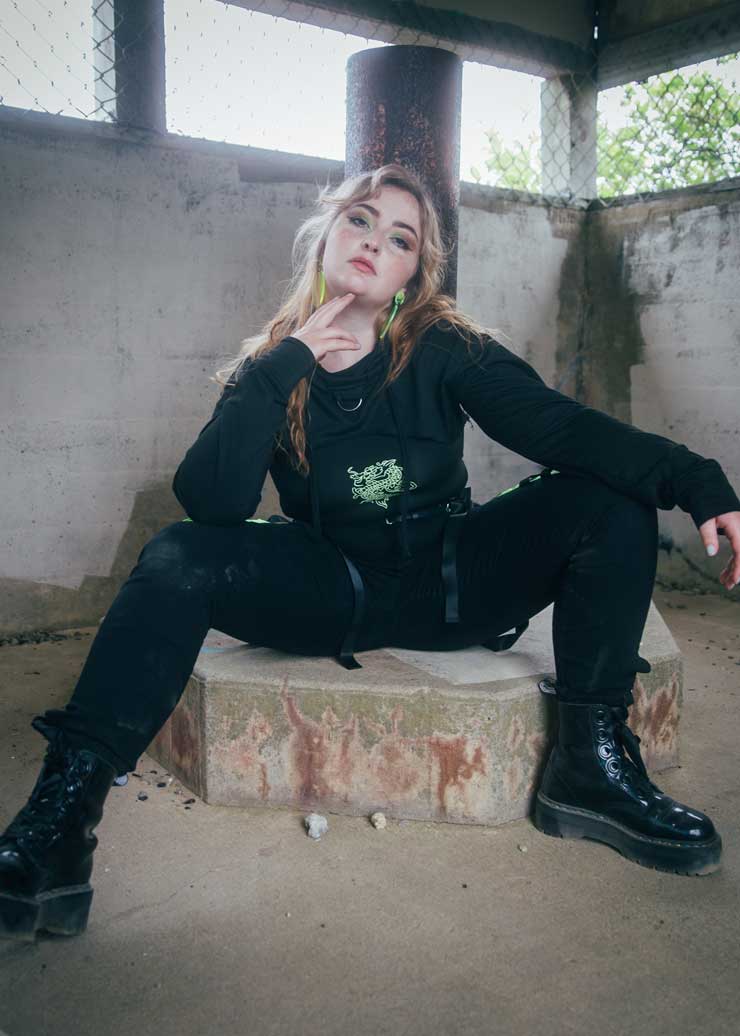 My #OOTD | Maddie Prentice, photography by Nick Johnson
Wanna know what college students are wearing all around the world? If you have an #OOTD to share, apply now and get published on RGNN.org!
The E-girl style combines goth, rave, and anime into one specific look. The goth aspect is dark and edgy, while the rave portion involves bright colors. Anime is a huge inspiration for a lot of modern fashion, especially when it comes to graphics. All of these styles rely on color coordination and unique accessories. Pieces of this look, such the black utility pants, are easily pairable with a lot of items in your wardrobe. While they are often a little pricy, their durability and versatility make the purchase totally worth it. What I find to make an e-girl outfit successful is accentuating a color and really making it pop. I decided to make the green dragon the main focus. In order to do so, I paired it with vibrant green earrings and bright green eyeshadow. This ties the whole outfit together and makes it look really well-thought-out!
Photographed by Nick Johnson @shuddahbug
Get my look ✨
Makeup | BH Cosmetics
Boots | DrMartens, $126 USD
Pants | Goodbye Bread, $53 USD
Hoodie by Shein | Similar style by Shein, $11 USD
Top | Shein, $5 USD
Have amazing style? Wanna share your #OOTD? Apply now and get published on RGNN.org!