I Used the Ole Henriksen Glow 2OH Toner, This is What it Did to My Skin

I Used the Ole Henriksen Glow 2OH Toner, This is What it Did to My Skin | Haya Jadayel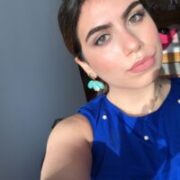 Haya Jadayel
American University of Beirut | Lebanon
Haya Jadayel is a student at the American University of…
I've tried out so many different skincare products, and all I can say is I think I found the world's most perfect toner. It gets rid of old stubborn acne scars, reduces pore size, and leaves you with a natural glow, and guess what? Results show in almost a week's time. Ole Henriksen, you've outdone yourself!
I was browsing on Instagram one day, and after scrolling through skincare accounts, I came across Ole Henriksen Middle East's post, where they had this product advertised. At the time, all the hype was on their Truth Serum (which I finally found a dupe for – stay tuned for my next article). I decided to read more about this toner, Glow 2OH, and when it sounded convincing, I went to Sephora I purchased the travel-sized one to try it out.
I used it at night, as per instructions, and woke up the next day feeling more radiant! (There is a chance this was all in my head, but my skin now says otherwise!) I use a cotton pad to apply it all over my face after I've cleansed at night, then continue my regular routine of Vitamin C serum, moisturizer, and eye cream.
Day by day, my acne dark spots were fading, and my toner bottle was close to empty, so I ran over to Sephora and bought the full size. It's really life (and skin!) changing. As the French say, "Chapeau Bas", which is the French way of saying hat's off.
However, here are some tips for you about when and when not to use this product:
Refrain from using it at least 24 hours before extreme sun exposure (tanning) – no matter what you do, your face will end up being really red – not burnt, but just really read for 3 days. The AHAs and the sun don't mix very well.

Don't use after any form of treatment on the face such as facials! Your skin is still very sensitive and can cause a burning sensation.
Only use this at night! Do not use it during the day – let the magic work while you're asleep, and again, AHAs don't mix well with the sun.
Do yourself a favor and buy this product! It's too good.
Do you have what it takes to write about beauty?
Apply now and get published on RGNN!