Rihanna's Fenty Clothing Line, Too Expensive to be Inclusive
Rihanna's Fenty clothing line | via @fenty Instagram
Rihanna is quite the music icon. But not only that, she is also a makeup extraordinaire and fashion expert. Her Fenty beauty line made quite the hit in stores and online, and now her clothing line, also named Fenty, is ready to do the same. Perhaps.
In an inside look into her first launch of the new collection, Rihanna told Vogue, "You can have all the clothes in the word and it's like..what does my body want to wear." Some may argue that is the question that created the perspective that shaped the entire Fenty clothing line: What does my body want to wear?
The line is being distributed by LVMH Moët Hennessy – Louis Vuitton SE, otherwise known as LVMH, a fashion conglomerate that is home to some of the most powerful luxury brands, including Christian Dior, Marc Jacobs, and Givenchy.
Rihanna's Fenty, and it forming part of LVMH, marks a big step in fashion when it comes to big fashion conglomerates. Rihanna is not only the first woman of color to introduce a fashion line with LVMH, but she is also the first designer to bring a new brand to the luxury label in since the 80's.
With a stylistic and minimalist approach to detail and a harmonious blend of new age streetwear with contrasting gender tropes, Fenty brings inclusivity into a space that has notably lack thereof. If the media knows anything about Rihanna's personal style, they know that she definitely does not play to the whims of societal norms. Therefore, Fenty was crafted upon not only making the range of sizes more inclusive (especially for a luxury brand), but also ensuring there are models of varying size, skin tone, and age.
Rihanna's Fenty has made many waves of positive and negative feedback amongst the public. Many praise the young businesswoman for making significant changes inside LVMH in a way that no other celebrity or designer has done before. However, others expected the fashion label to exhibit the same price points and accessibility as Rihanna's other fashion line partnerships, such as that of with Puma and Savage x Fenty. Rihanna told T Magazine, "It's the thing that keeps me asking: So how much is this gonna cost at retail? How can we bring the cost down without compromising on quality?" Some of the more pricer items in the Fenty clothing line drop are part of the outerwear collection of suits that ranged from $1,100 to $1,500 USD. The line of accessories that range from sunglasses to shoes and jewelry come in at about $350 to $600 USD.
The usage of a brand centered on creating luxury versions of streetwear is definitely not a new concept, however Rihanna's incorporation of diverse models and a lack of traditional fashion line elements such as a fashion show, makes her brand stand out among the rest. T Magazine says, "Featuring structured silhouettes in subdued neutrals (at least to start) that emphasize strong shoulders, cinched waists and exposed legs, the Fenty brand is hoping to disrupt the market not only by channeling the imagination of a black woman but by revolutionizing the luxury distribution model by focusing on direct-to-consumer online sales." The brand was introduced on May 24th, 2019, in Paris and will continue to be periodically restocked for online purchase. As far as making changes to the prices to make the brand overall more inclusive on a financial level, that is uncertain.
Popular gossip magazine, Popdust, called the high prices and "the brand's claim to appeal to the modern woman .. out of touch with reality." Furthermore, the "Products range from $460 sunglasses to a $1,100 cotton canvas dress. That's not surprising from a luxury goods company parented by Christian Dior. But the typical modern woman can't afford $625 sandals or a $420 brass ear cuff with Swarovski crystals."
Many fans had an expectation that Rihanna's clothes, because they are centered around their ability to fit the average woman, would also be affordable to the average working class woman.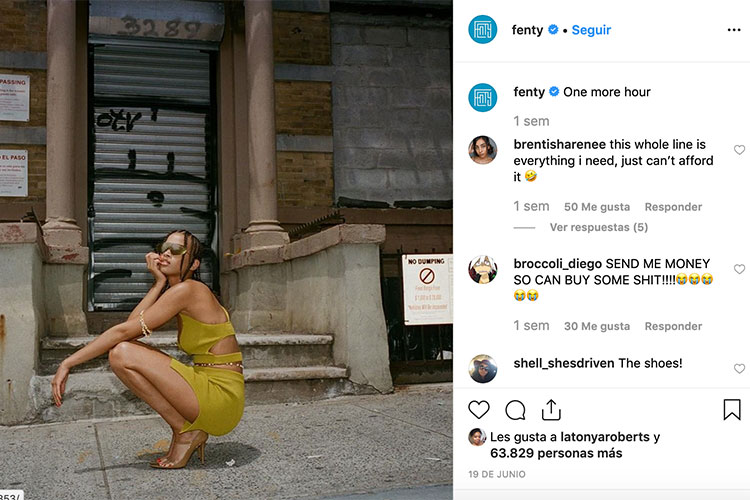 However, that is not the case. Nevertheless, LVMH is a luxury fashion conglomerate, – (emphasis on "Luxury"), – and that entails that their prices will fit in conjunction with the other brands and labels they partner with. Although Rihanna's ability to open the doors of the luxury fashion world is making larger movements towards promoting inclusivity and diversity, the price points of her pieces are doing the exact opposite.