Welcome to The Director's Cut, an interactive column featuring fashion, beauty and career advice from RGNN Director and Founder, @isabelevabohrer.
Every student in our fashion internship and mentoring programs dreams of attending fashion week. And it's not impossible to do so as a college student – I myself attended New York Fashion Week during my undergraduate degree at Columbia University. So, to make your life easier, we have put together a series of exclusive guides on how you can get invited to fashion week, even if you are still at university.
My tip for anyone wanting to pursue coming out for fashion week would be to start building relationships with brands by promoting them through social media. Another idea would be to take an internship at a fashion magazine that would give access to the shows. At the end of the day it's about building your own brand and networking.

– Larsen Thompson, actress, model, dancer and singer who has graced the cover of Vogue Italia and more!
To break things down from the get-go, there are three main ways for university students to attend fashion weeks: as a volunteer, an intern or as a content creator.
Requires the least amount of time commitment. 
The best way to get hands-on experience. 
If you have followers, engagement and content. 
FYI, the guides cover fashion weeks in general, the most famous ones including New York, London, Milan, Paris. Rules and regulations may vary for each fashion week (and even each brand's show), but the essentials are the same.
---
With special thanks to
---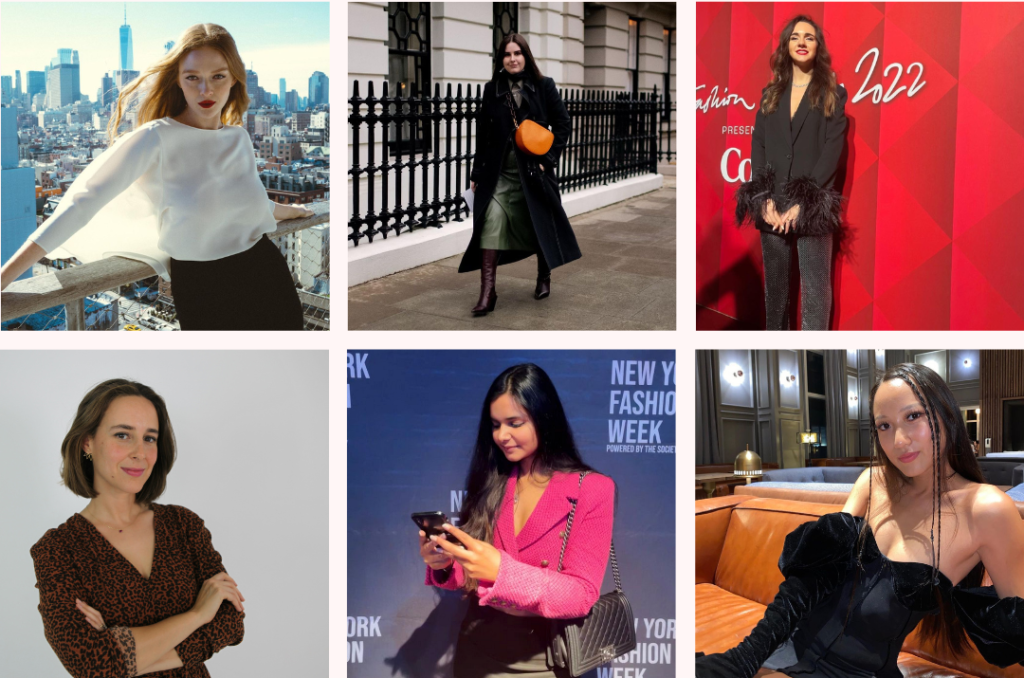 When I started compiling these guides, the resonance was so big that six exceptional people hopped straight on board to contribute, so a special thank you goes to:
✨ Larsen Thompson, an actress, model, dancer and singer who has graced the cover of Vogue Italia, and collaborated with more fashion brands than we can mention here. For RGNN, she offered her first-hand advice directly from New York, Milan and Paris fashion weeks. (You can also read my full interview with Larsen here.)
✨ Emilie Marie Hill, Social Media Editor at The Telegraph, straight from London Fashion Week, and always offering her wonderful internship advice. She has also kindly offered to keep her DMs open to all RGNN students – thank you, Emilie!
✨ Giada Graziano, Forbes 30 Under 30 and CEO and Founder of Glam Observer, a fashion career advice platform. Glam Observer has such a plethora of tips, and for RGNN, Giada has specifically offered her fashion week advice straight from Milan, Italy.
✨ RGNN Expert and Mentor Helena Montes (yes, she has designed a Carolina Herrera skirt spotted on Sarah Jessica Parker!), straight from Australian Fashion Week with Sass & Bide and Redken!
✨ RGNN Alum Ananya Goenka, who successfully completed our Internship and Mentoring program in Madrid, Spain, now directly from New York Fashion Week and always in style!
✨ RGNN Alum Poppy Shen, who also successfully completed our Internship and Mentoring program in Madrid, Spain, also reporting directly from New York Fashion Week. Poppy has gone on to work at CNN, AOL and is now a Video Producer at Yahoo!
---
Read the first guide: volunteering at fashion week here and see you next week with our second guide: how to get an internship at fashion week!
Questions or comments? Follow me on IG @isabelevabohrer and say hi! See you soon!