How the Curly Girl Method Saved My Hair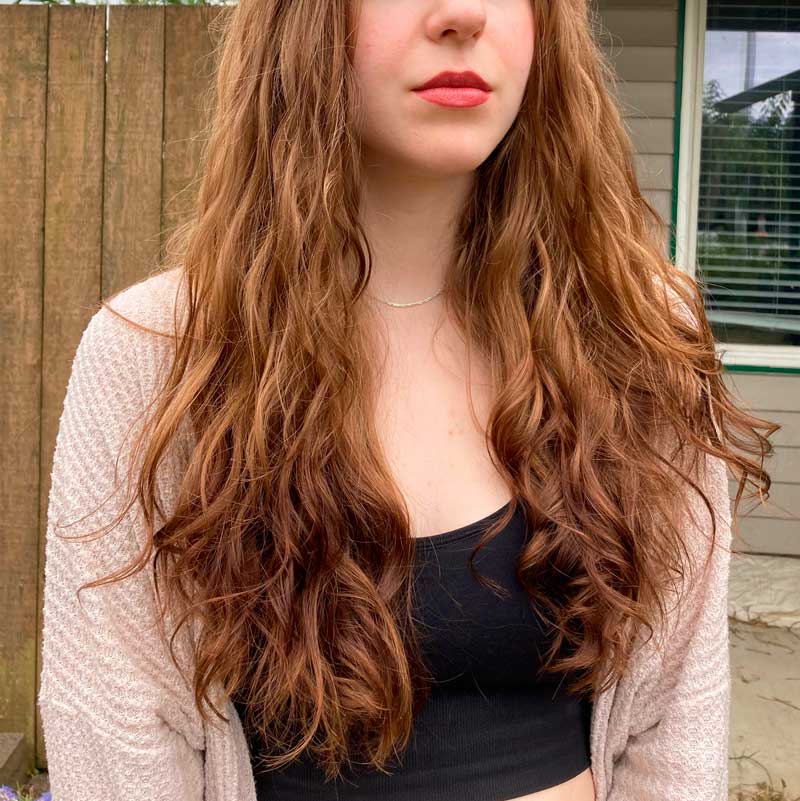 My hair in natural light, post-scrunch and dry after product application | Lynnie McIlvain
Three years ago, I fried my virgin hair with box bleach (beginner's mistake!). It lost its body and length and in general, was a shell of its former self. I tried to save it by dying it back to dark, but that only processed it further. For the first six months, not a single thing that I tried worked, until my twin sister introduced me to "the Curly Girl Method".
"Try the CG Method," she told me, watching me brush out my limp hair in the mirror. She examined the back of my hair; at that time, it looked like I was growing out an inverted A-line bob from all of the breakages at the back of my head. It really was that bad.
So what is the Curly Girl method? My sister explained it as a hair care routine that, through the elimination of harsh chemicals and silicones and an anti-friction awareness, repairs your hair and brings out your natural curl pattern. "A lot of people try it after they ruin their hair," she said to encourage me, but I winced at 'ruined'.
"Oh, and you're going to have to stop brushing your hair."

My twin sister
Now that I was fully perturbed, she let me watch her Curly Girl routine, which very soon became mine.
The first thing that I did was throw out the last of my "unsafe" shampoos and conditioners—that is, shampoos with sulfates like sodium lauryl/laureth sulfate as the main lathering agent and conditioners with heavy silicones like dimethicone and amodimethicone. I suppose to be more waste-conscious, I should've finished off the bottles, but I couldn't stand the thought of abusing my hair anymore.
Then I purchased CG-safe shampoo and conditioner. Currently, I use the Maui Moisture Heal & Hydrate line of shampoo and conditioner with shea butter, and those are the wash products I used in my hair in the photo below. However, when I'd just started on my Curly Girl journey, I didn't use a traditional conditioner at all. Instead, every time I washed my hair—about two times a week so my natural oils could strengthen my hair as well—I conditioned with a hair mask. I loved the Shea Moisture Strengthen & Restore hair mask, and even now when my hair is feeling dehydrated, I repurchase it!
With the mask in my hair, I use a wide-tooth comb to detangle, since knots can happen now that you're not brushing your hair every morning. The conditioner helps to lubricate the comb when detangling, which damages your hair much less than a dry brush. Brushes rip out knots and tangles, thus breaking your hair off even more.
After re-rinsing my hair to saturate it with water, I flip my head over and scrunch in the Cantu Natural Hair Moisturizing Curl Activator Cream. You want to scrunch each following product into your hair for the best results. If I wasn't out of my leave-in conditioner, I would spray in Not Your Mother's Royal Honey & Kalahari Desert Melon Repair & Protect Leave-In Conditioner before putting in the Cantu product. Both products add moisture back into your hair while it's primed to accept it—while it's wet. The Repair & Protect Leave-In doesn't weigh down my hair, and Cantu's Activator Cream is what I swear by. It gives my hair that extra bit of moisture and curl before gel. Both my sister and my mother use it now, too!
Gel is the step in the routine that sets your curls and holds them once your hair dries, and the budget-friendly gel that I keep returning to is Garnier Fructis's Pure Clean Styling Gel (which you can buy for under four dollars!). It feels light on my curls and rehydrates well the next day. DevaCurl's Arc Angel Maximum Hold Gel is a similar product for those of us on a less strict budget, and it's unbeatable.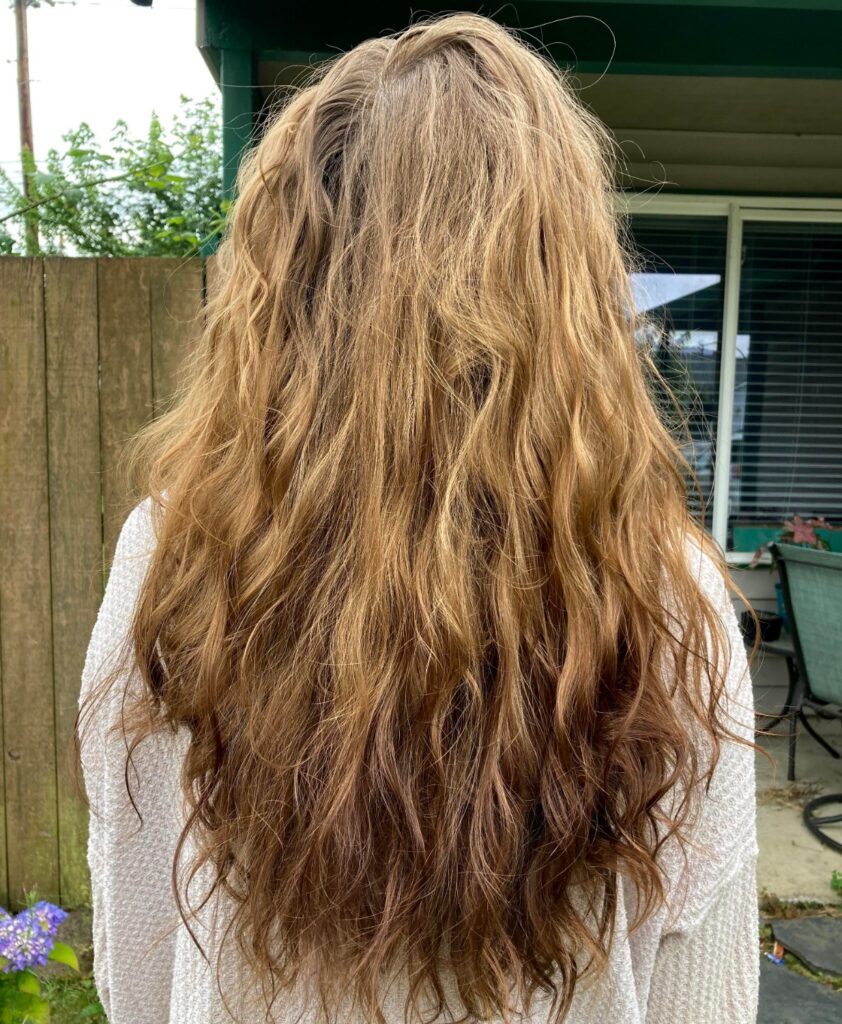 But more than the products I used, what mattered most was the way I treated my hair. I truly believe that had I not treated my hair so gently, it wouldn't have bounced back so fast or so fully.
So now that I scrunched all of my products into my hair, I keep my head hung forward and use an old t-shirt with the same scrunching motion to dry my hair. I press the curls against my scalp and squeeze firmly to leach the remaining water out. I open my hands and release when I'm done so that I don't yank the curls out when I take the t-shirt away. What no one tells you is that towels are just too harsh on your hair! Especially if your hair is already damaged, towels rub against the hair strands and agitate them, causing frizz and more breakage.
Speaking of breakage, how does the Curly Method tell you to prevent it? For one, buy a satin or silk pillowcase. I bought mine on Amazon for about fifteen bucks and it's life-changing. For similar reasons that you don't want to rub a towel on your hair, you also don't want to sleep on a friction-inducing cotton pillowcase.
In combination with my silk pillowcase, I started "pineappling" my hair at night. Pineappling is another CG vocabulary term; using a fabric or silk scrunchie, you tie your hair up on the top of your head before bedtime. Never use an elastic tie; they rip at your hair with, you guessed it!, friction. By arranging your curls in a silk-tied bundle atop your head, you protect your vulnerable ends from any slight friction against your new pillowcase, and it prevents you from crushing your curls in the night. That way, you can refresh them with a few spritzes of water in the morning, re-scrunch, and head on your way without needing to tear a brush through your hair!
We try to deny it, but the truth is: we're vain about our hair. The end-of-shower routine can feel like a lot of work at the end of a hard day or start of a lazy morning, but in the end, it's worth it to have confidence in our hair. When I fried my hair three years ago, I was devastated inside. Thanks to the Curly Girl Method, though, I only had to sit with those low self-esteem feelings for about a year and a half before my hair was almost back to normal. Now, no one can tell that I ever bleached my hair. If you're in the same place as I was, you'll wish you'd tried the CG Method sooner.
Do you have what it takes to write about beauty?
Apply now and get published on RGNN!