Putting Floral Street's Perfume to the Test: "Ylang-Ylang Espresso"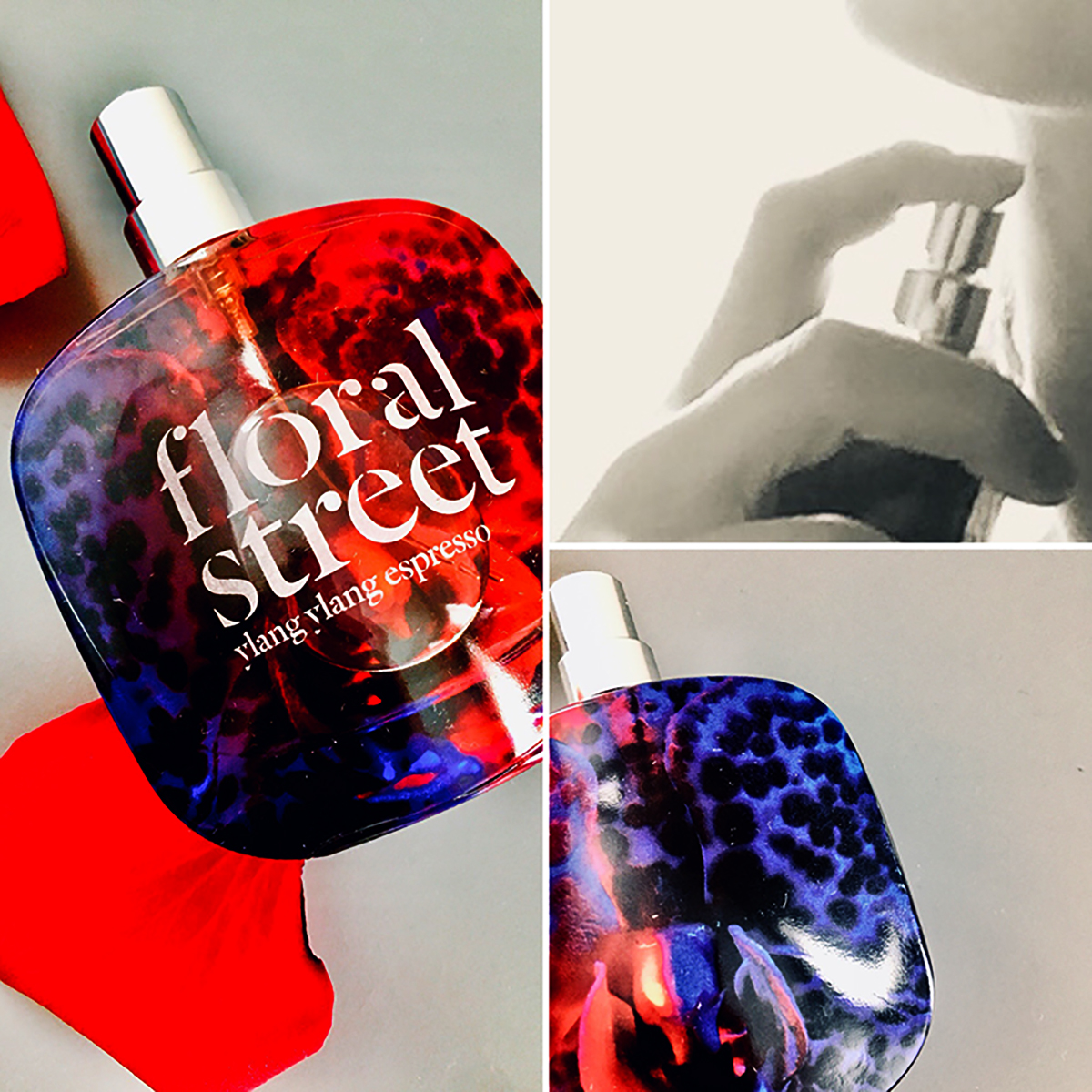 "Ylang-Ylang Espresso" by Floral Street | Photo by Floral Street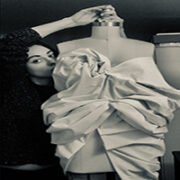 Megan Taylor
Parsons the New School for Design | USA
Megan Taylor is a student in her third year at…
After a curious stroll on my own around London's Covent Garden, I came across a lovely brand which at the time was only operating locally in a small boutique on King Street titled "Floral Street". As a vegan in search of sustainable, clean, ethical fragrances and beauty products all the time, this group charmed me with their level of sophistication, dedication to female empowerment, affordability, independence from larger corporations, social and eco-consciousness regarding everything from their biodegradable packaging, all the way to their recycled glass bottles with custom floral motifs.
Their employees have all the perks of English manners and wear adorable aprons as if entering a literal florist, the boutique itself is set up as if it were an apothecary or laboratory of a sort, each fragrance comes with a personality to define it, and is completely free from animals. I fell in love with their scents and now that they have expanded to Sephora in the United States, I have decided to give the daring and award-winning: "Ylang-Ylang Espresso".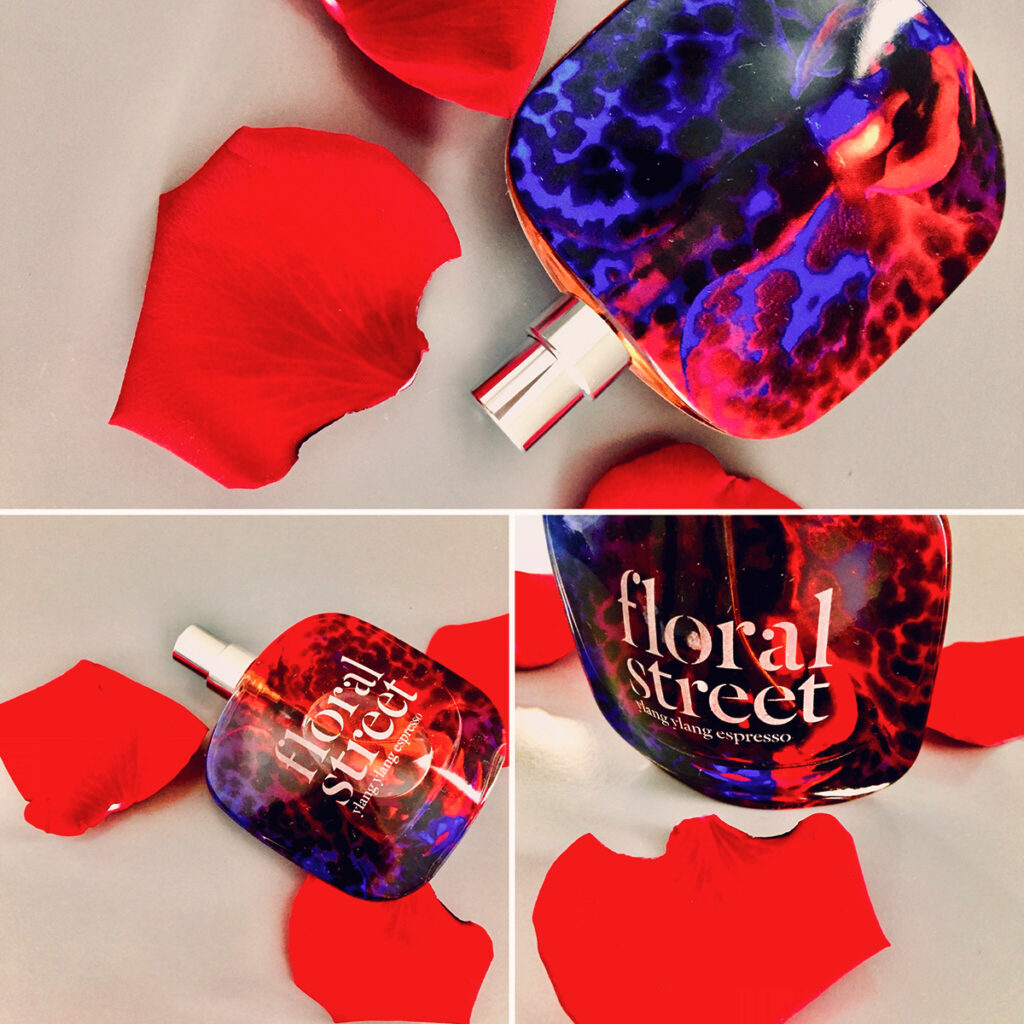 Pros: This perfume claims to be made up of  Tangerine, Sichuan Pepper, Fresh Rose, Jasmine, Tiramisu Accord, Patchouli, Ylang Ylang, Espresso Beans, Cocoa Beans, and Guaiac Wood.
Off the bat when you spray it you get a strong note of Ylang Ylang, Patchouli, and Coffee-Tiramisu deliciousness. It then seems to mellow down into the seductive fusion of added Jasmine and Fresh Rose. The Tangerine is there, but thankfully it is the weakest as far as pull-through, (quite subtle so that you are not worrying about smelling like Lysol). It has great wearability that will last you all day and even into the next. I received several compliments and mere questions as to what I was wearing, on a sweltering underground train (this perfume is sure to mask your sweat), as well as during a full shift of waitressing at my part-time job. The scent is very close to Yves Saint Laurent's Black Opium, (if you enjoyed any of the Opium fragrances; but so happen to not agree with the sub-par practices and ingredients of that brand, Ylang-Ylang Espresso is for you). This selection also hails to be Floral Street's #1 unisex scent, so ladies and gents indulge yourselves! The bottle's artwork is smoky and mysterious, the artwork appeals to those who like to rebel and discover all things forbidden just as it promotes… it is truly a fragrance for leaders and icebreakers; for those who wish to be noticed, and are independent-minded. This is not your grandmother's go-to, it is an appropriate option especially for the upcoming autumn/winter months and evenings out I gather. The vibe is dark, punk, and "back alley" if you will.
Cons: This is not your grandmother's go-to.
With that being said, some may find this scent too bold. It is not to be worn by traditional vanilla-rose patrons. Those who prefer lighter, fruity, or strong floral scents may find this to be off-putting. One may come to conclude that it smells a bit like an ashtray, or cigarettes with a bunch of leather and bikers. It does hold its florals well in weight but the kick comes in with its spice that not everyone is able to handle. Some may think it is too provocative, perhaps in a risqué way; inappropriate for say….a niece's 5th birthday party. But what it lacks in its familiarity, it makes up for in its durability. Due to it being unisex in nature, some may sense it to be too much like men's cologne; if you do not like play on gender, this one is not for you. As far as the price range, it could be a pro or a con. It's con is that the standard size bottle of 50mL  (1.7 oz), starts at $78 US dollars; however with fragrances by many designer brands like Prada, and Yves Saint Laurent, etc selling for $126-$145 per bottle, the con of this being on the higher end in today's economy is debatable.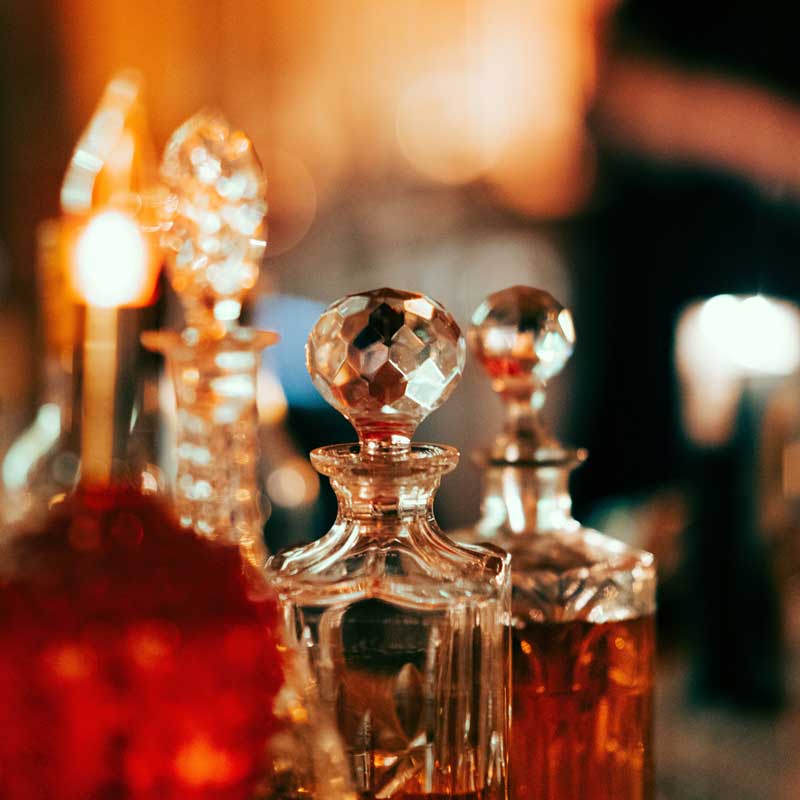 Bottom Line: Buy it, try it, I am sure you will love it.
Not just the fragrance, but you will have the comfort of knowing your money is being put to good use for once and is being used for a company that is actually trying to create positive change for the beauty industry and set an example for tomorrow's connoisseurs and future brands. The bottle is large and worth the money, and beautiful enough to keep as a souvenir on its own. The affordability issue (if at all) really balances out with the fact that with this fragrance a little goes a long way. They also sell a smaller travel size for less. It's sultry, it's unique, and best of all free from animals or animal testing. The owners are female-ran, and the brand is small but, visionary.
If you don't quite come to appreciate the Ylang Ylang Espresso scent, Floral Street carries an older sister to this one called Black Lotus which you may find more to your liking.
Do you have what it takes to write about beauty?
Apply now and get published on RGNN!