4 Picnic Outfits for Spring #OOTD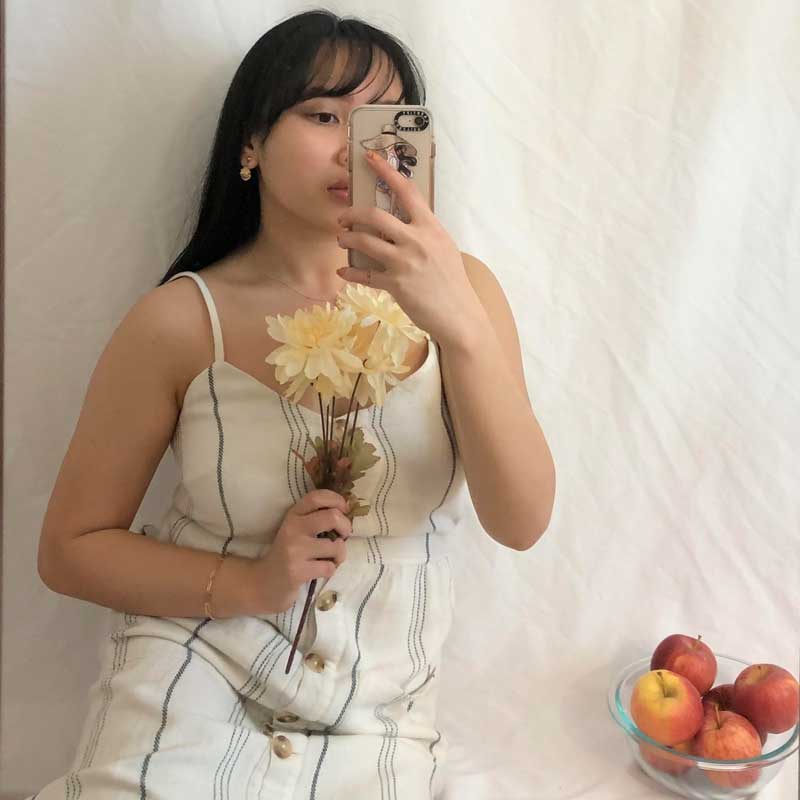 4 picnic outfits for spring | Eileen Nguyen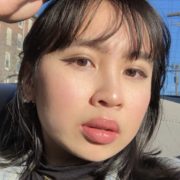 Eileen Nguyen
Rutgers, The State University of New Jersey at Newark City Hall | USA
Eileen Nguyen is from New Jersey and she goes to…
Wanna know what college students are wearing all around the world? If you have an #OOTD to share, apply now and get published on RGNN.org!
Spring is a great time for classic picnic outings with friends, family, or your significant other. Even though we're currently in quarantine, it doesn't mean you can't plan ahead or even have your own picnic in the comfort of your own home. Here are four ideas of outfits I personally love, take them as inspiration to come up with some of your own!
Look 1: Classic Lady
I call this look "Classic Lady" because for some reason it reminds me of Alice in Wonderland and how a lady would wear long dresses to be classy. It also has Parisian vibes, which is a very elegant and simple style. Wearing a long dress for a picnic is certainly more comfortable than wearing a short one since you don't have to worry about showing too much skin. Of course, still, be careful. The thin-strapped dress is from Oak + Fort, which is a brand that caters to any minimalistic kind of fashion. The dress is made of soft cotton and has an elastic waistband in the center so it is the perfect look to eat in without worrying about having it be too tight.
Look 2: Flirty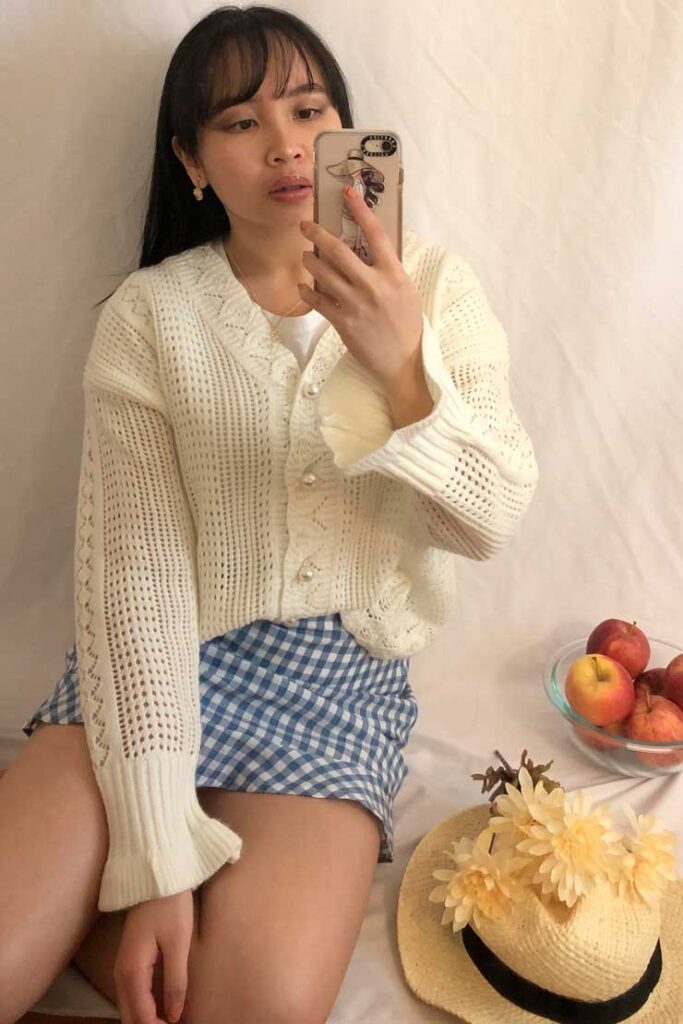 This look is a little flirtier than the first since this skirt is shorter. However, the skirt is mid-thigh length when standing so it's not too revealing. This look is more suitable if you're having a picnic on a table rather than sitting on the ground.
An outfit like this can be worn on cooler spring days, hence why I added the cardigan. The frilled top from YesStyle is light but thick enough to keep you warm on those windy days. It is easy to take on or off without unbuttoning so if you feel warm, you can tie the cardigan around your neck to add detail. It's cute either way you style it.
The blue gingham skirt from NastyGal has a light texture that is ideal for comfy picnic days. Sometimes you can feel sweaty, but with this skirt, you'll feel cooler in the heat. The skirt also adds a nice subtle color to the outfit. It is a muted blue so it doesn't pop out too much, but just enough to compliment the look.
Look 3: Comfy Casual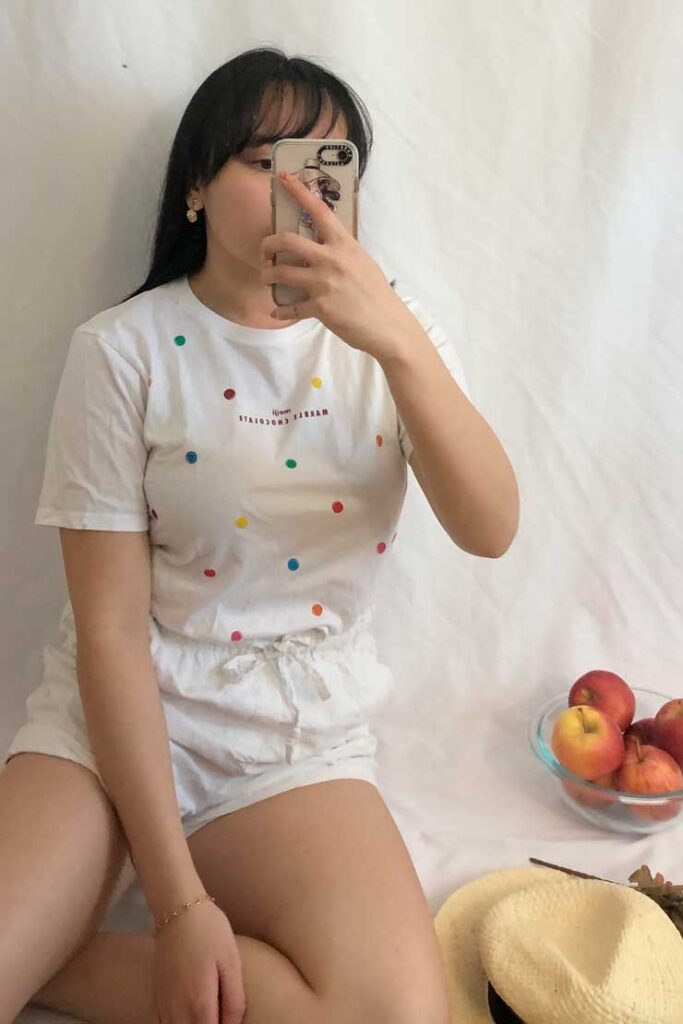 If you're more of a pants person, don't worry, this is an outfit you'll probably enjoy more. Short shorts aren't really cutting it in the fashion scene – at least, for me. As I grew older, I found that wearing longer shorts are more suitable and a lot more stylish. These shorts from Uniqlo are the perfect summer pair because the fabric is light and has a thin linen texture. It is a little sheer though.
I wanted to keep the monochrome look going but also wanted to add subtle pops of color. This tee, also from Uniqlo, does exactly that. Uniqlo carries a lot of t-shirts that collaborate with different brands. They've created shirts with Sailor Moon, Pocky, Disney, and so much more! Their shirts are made of cotton so it's a very sturdy and long-lasting top.
Look 4: One with the Earth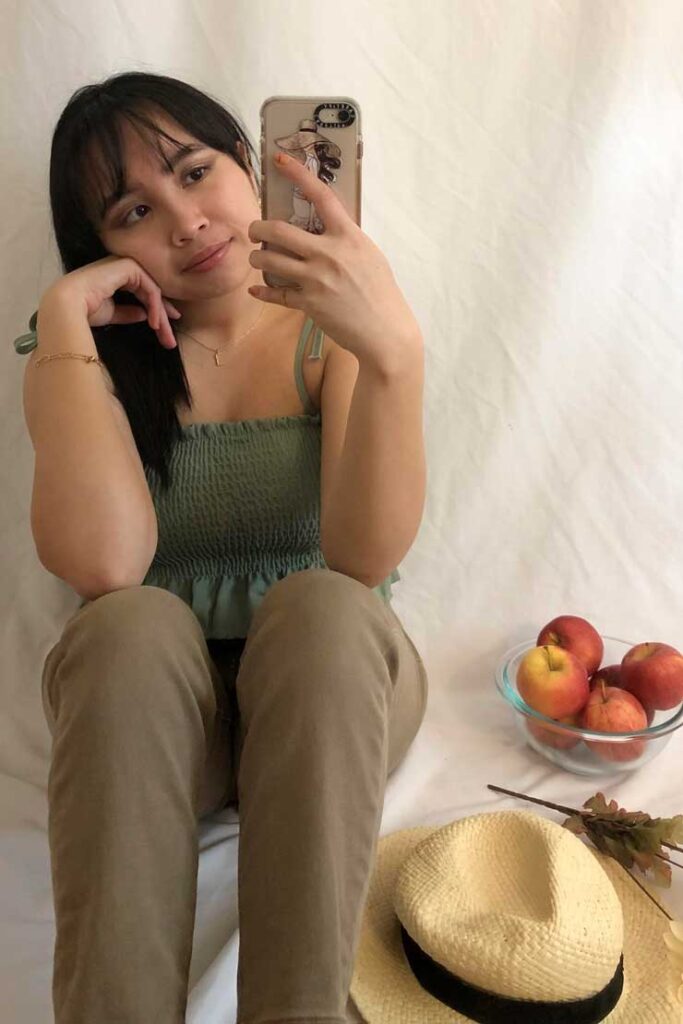 Another pants look for pants lovers! I personally prefer to wear pants, especially this pair from Oak + Fort. They have some stretch which is always key during any outing since eating is going to be the number one activity on any picnic day. I wanted to create an earth-toned outfit to capture the essence of fresh green leaves in the springtime so I paired the pants with a cropped tank from YesStyle. The tank can be very form-fitting, but it does have stretch in it. The straps are adjustable so you can tie it however you want, which creates more detail.
Get my look ✨
Have amazing style? Wanna share your #OOTD? Apply now and get published on RGNN.org!